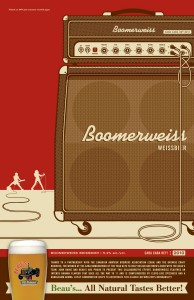 BEAU'S All Natural Brewing Co. Is proud to present the 2010 edition of its CABA CABA HEY series of beers "Boomerweiss Weissbier" a collaborative effort from BEAU'S and 'Home Brewer Of The Year' John Baine from Dundas, Ont.
Thanks to this unique partnership between the Canadian Amateur Brewers Association (CABA) & Ontario Craft Brewers, the Home Brewer Of The Year not only gets an award and bragging rights, but also gets to help design & brew a beer with the folks at BEAU'S.
John's award winning entry is called "Boomerweiss Weissbier". A beer that features an intense banana flavour that goes all the way to 11 and is complimented by clove-like spiciness and a bubblegum aroma. Lively carbonation helps to accentuate this classic hefeweizen's drinkability.
"It's great to work with a passionate home brewer like John." says Steve Beauchesne of BEAU'S All Natural Brewing Company, "And help take his dream of beer to the next level"
CABA CABA HEY! 2010's "Boomerweiss Weissbier" is available now for a limited time at BEAU'S Brewery, 10 Terry Fox Road in Vankleek Hill, Ont