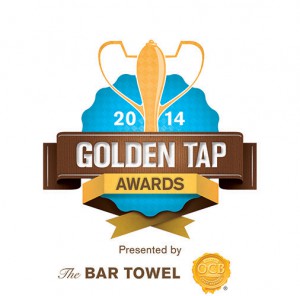 The Golden Tap Awards, Ontario's most democratic beer awards event, has launched its voting for 2014 with an expanded set of categories to reflect the ever-growing importance of craft beer in the province.
Now in its twelfth year, the Golden Tap Awards is the leading awards event whereby winners are determined through a democratic vote by the general public – and anyone can be nominated or win – as long as they represent craft beer.
This year the Golden Tap Awards is adding a new set of awards recognizing special achievements, to go alongside the established main awards.
Within the Main Awards, the categories that have been consistent over recent years will remain:
Best craft brewery in Ontario
Best brewery for cask-conditioned ales in Ontario
Best bar in Ontario for draught beer selection
Best bar in Ontario for bottled beer selection
Best bar in Ontario for cask-conditioned ale
Best brewpub or tied house in Ontario
Best regularly-produced craft beer in Ontario
Best seasonal or specialty craft beer in Ontario
Best cask-conditioned ale in Ontario
New this year will be the addition of Best craft cidery in Ontario, recognizing the growth and importance of craft cider in the province.
Introducing the Tappies
This year will see the addition of the Tappies, a new category of awards recognizing special beer achievements in Ontario.  These awards are meant to reflect the depth and creativity that exists in the craft beer scene.  The Tappies will include:
Design Award: For the best packaging design, label artwork and branding in Ontario
Innovation Award: For pushing the boundaries of craft brewing the furthest in Ontario
Newcomer Award: For the best bar, brewpub, restaurant or brewery that is new to Ontario
Event Award: For the best beer event that took place in the past year in Ontario
Staff Award: For the best (most beer-knowledgeable, friendly) staff in Ontario
Beer Writer Award: For the best beer writer (print, digital or other) in Ontario
Brewmaster's Choice: For the best beer in Ontario, as decided by the craft brewers themselves
The Editor's Circle awards will remain to recognize special achievements in craft beer that do not fall into the other categories, as determined by a selection of Bar Towel members and associates.
Voting for the Golden Tap Awards can be made online at goldentap.com until Tuesday, September 9th at 11:59pm.  Winners will be announced at a special gala event on Wednesday, September 17th at beerbistro as part of Toronto Beer Week.  So, have your voice be heard and vote now!
The Golden Tap Awards is a production of The Bar Towel and presented in 2014 by the Ontario Craft Brewers.