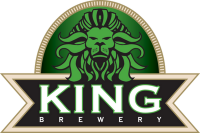 PRESS RELEASE:
Today, Beer Barons announced the acquisition of the award-winning King Brewery. Based in Nobleton Ontario, King Brewery has been in operation since 2002. The Brewery operates a state of the art decoction brew house unique to Canada, and delivers ultra premium lagers that rival the best in the world.
King Brewery has won many awards for its true to style, Czech Pilsner, including Gold at this year's Canadian Brewing Awards for Canada's best European Style Pilsner. The Brewery has distinguished itself among critics as one of the premier craft brewers in Canada.
Phil DiFonzo, the founder of the Brewery, will remain in his role as Brew Master. "We set out to brew the highest quality beers that Canadians can be proud of. Our equipment and brewing processes are second to none. All the awards and sales growth are a direct result of the quality King brings to the marketplace. In order for King to realize its full potential in Canada, we wanted to bring even more expertise to the table. The management at Beer Barons will provide us with the necessary support to exponentially grow the business."
In his speech to employees, Sean Fleming, CEO for Beer Barons, outlined the strategy behind the move.
"Beer Barons is committed to importing and producing the world's highest quality beers. We believe that King Brewery meets these high standards. We are excited about King joining us and the potential King has to offer to the Canadian brewing industry."
Troy Taylor, Beer Barons' National Director of Sales and Marketing added, "There is a seismic shift occurring in the Canadian beer market. Canadian beer drinkers are looking for higher quality craft beers and are doing so in record numbers. Canadians have always believed that the quality of beer made in Canada can rival the rest of the world. We feel the quality and brewing tradition at King Brewery will allow us to capitalize on this consumer shift and deliver ultra premium products made right here in Ontario."
King Brewery currently produces King Pilsner, King Dark lager, King Vienna and seasonally produces King Pilsbock. King Brewery has been recognised nationally, winning over 15 awards in both the Canadian and Ontario Brewing industry since 2002. Its accomplishments include being selected as the 2003 Beer of The Year by the Food and Drink magazine, Toronto Star's Best Beer of the Year, and has been awarded Gold at the Canadian Brewing awards from 2003 – 2006.