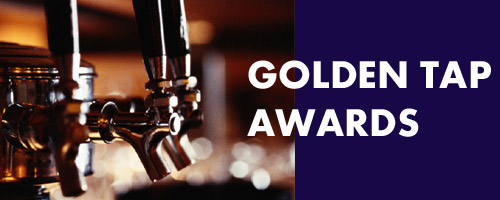 The Bar Towel is proud to announce the launch of voting for the 2010 Golden Tap Awards, a leading awards event recognizing the best craft beer achievements in Ontario.  Now in its eighth year, the Golden Tap Awards is a democratic awards event, with all voting taking place online at www.goldentap.com until August 10th.
The Golden Tap Awards recognizes the best in beer from across Ontario, and you can vote for whomever you wish in each category, including:
Favourite craft brewery and brewery for cask-conditioned ales in Ontario
Favourite craft regularly-produced beer, cask-conditioned ale and seasonal or speciality beer in Ontario
Favourite craft beer bar, both for draught, bottled and cask-conditioned ale selection in Ontario
Favourite brewpub or tied house in Ontario
The Golden Tap Awards party will take place on Saturday, August 21st at beerbistro in Toronto. At this gala event all winners will be announced at a special Ontario beer festival featuring only Ontario craft beers.  There will also be a real-time Golden Tap Awards vote for the best beer available at the festival.
New this year will be a special Golden Tap Awards craft beer dinner on Friday, August 20th.  This dinner will feature a seven-course dinner with exclusively Ontario craft brewers, including Beau's, Black Oak, Denison's, Grand River, Granite, Great Lakes and Mill Street.  Each brewery will have one of their beers paired with a course created by Chef Brian Morin.  More details and ticket information will be announced soon at www.goldentap.com.