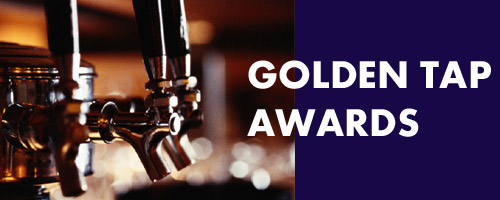 Last night at midnight the voting for the 2010 Golden Tap Awards closed. Up next – announcing the winners! All winners will be announced at a special gala event at beerbistro at 18 King Street East in Toronto on Saturday, August 21st.
The Golden Tap Awards recognizes the best in beer from across Ontario, and winners will be announced in the following categories:
Favourite craft brewery and brewery for cask-conditioned ales in Ontario
Favourite craft regularly-produced beer, cask-conditioned ale and seasonal or speciality beer in Ontario
Favourite craft beer bar, both for draught, bottled and cask-conditioned ale selection in Ontario
Favourite brewpub or tied house in Ontario
At the event will be an all-Ontario craft beer festival, featuring all draught lines and a bottle station exclusively dedicated to Ontario craft beers.  During the event attendees will be able to vote in real-time for the Best Beer of the Festival which will also win a Golden Tap Award.
Doors for the event open at 4pm.  The awards are announced at 8pm.  Hope to see you there!