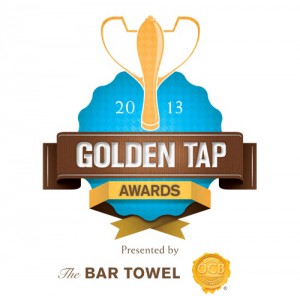 The Golden Tap Awards, which has been recognizing beer achievements in Ontario since 2003, has launched voting for its 11th edition.
The Golden Tap Awards ask beer lovers from across the province to vote for their favourite beers, breweries, bars and brewpubs – with no nominees – whatever their favourite is can be their choice.
Voting takes place from now until September 10th, 2013 online at goldentap.com.  Winners will be announced at a special gala event at beerbistro on Wednesday, September 18th as a part of Toronto Beer Week.  The event will feature an all-Ontario craft beer festival, along with a special limited-access beer and food pairing experience.
The Golden Tap Awards are also proud to welcome the Ontario Craft Brewers as a presenting partner this year.
All details about the Golden Tap Awards including the history of the awards, past winners and event details can be found at goldentap.com.  Now go and vote for your favourites!