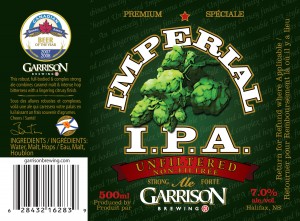 As part of the LCBO's Autumn Ales beer release, we are thrilled to say that Garrison Imperial I.P.A. from Halifax, Nova Scotia is rolling out to the shelves for purchase.  The Bar Towel, through our partner Cecktor Limited, is the agent for Garrison in Ontario and has been documenting the experience of importing through the Free Our Beer project.  You can find which LCBO stores currently have stock here.
It has been nearly a year in the works to get this beer to LCBO store shelves and we are very happy it is here.  It is truly a fantastic beer, a two-time Canadian Beer of the Year at the Canadian Brewing Awards and one of the most regarded IPAs in Canada.  Recently a few web sites have reviewed Garrison IIPA from the LCBO media tasting a couple of weeks ago, and here's what they had to say:
From Toronto Beer Blog:
OH HELL YES.  Garrison and Propeller are the two "big" microbreweries in Nova Scotia, and are admired and well-respected for good reason.  They make great beers.  Garrison's IIPA is incredible, golden brown with huge hops in the aroma, grapefruit mostly, and hints of florals.  The flavour is pretty much all hops, though there is a nice malt background, which keeps the hops in balance.  As it warms, there are hints of straw that come through the hops.  In my notes, I used an obscenity to describe how good this beer is.  Just buy it, okay?
And from Taste TO:
Local hopheads have been hoping for some time to see this bitter beauty from Nova Scotia on LCBO shelves. Now that it's here, they won't be disappointed, as it's chock full of the aromas and flavours that hop lovers crave – spruce, pine, grapefruit & herbs – but just enough malt sweetness to keep things from getting too out of hand. It'll be tempting to stock up on this one, but it's best enjoyed fresh, while the hops are still really popping.
Garrison Imperial I.P.A. has started hitting the store shelves this week and will sell for $4.25 per 500 mL bottle.  It is joined in this seasonal release by Orval Trappist Ale,  Trafalgar Smoked Oatmeal Stout,  Hofbräu Oktoberfestbier, Dieu du Ciel! Peche Mortel, Southern Tier Choklat, Belhaven Scottish Stout, Dark Star Espresso Stout, Cannery Brewing Blackberry Porter, Wychwood Wychcraft, Innis & Gunn Limited Edition Highland Cask, Lakes of Muskoka Harvest Ale and Samuel Smith's Organic Cider.  All of the beers should be hitting the store shelves now.
P.S. as mentioned above, and for full disclosure, The Bar Towel is behind the importing of this beer.  And we can tell you from our dealings with the LCBO that if you want to see more Garrison in Ontario, please buy some.  You can find after the break the complete list of LCBO stores that will be receiving Garrison IIPA (plus the other Autumn Ales releases).
| | | | | | |
| --- | --- | --- | --- | --- | --- |
| Address | | City | Postal Code | Area code | Phone |
| 40 KINGSTON ROAD – EAST | DURHAM CENTRE, UNIT 104 | AJAX | L1Z1G1 | 905 | 683-5306 |
| 737 GOLF LINKS ROAD | MEADOWLANDS CENTRE | ANCASTER | L9K1L5 | 905 | 304-9608 |
| 15830 BAYVIEW AVE. | | AURORA | L4G7Y3 | 905 | 727-7288 |
| 534 BAYFIELD STREET | | BARRIE | L4M5A2 | 705 | 722-1046 |
| 37 CAPLAN AVENUE | UNIT #4 | BARRIE | L4N6K3 | 705 | 726-6220 |
| 190A BELL BOULEVARD | | BELLEVILLE | K8P5L2 | 613 | 962-2132 |
| 80 PEEL CENTRE DRIVE | BRAMALEA CITY CENTRE | BRAMALEA | L6T4G8 | 905 | 793-8027 |
| 170 SANDALWOOD PARKWAY E. | HEART LAKE TOWN CENTRE | BRAMPTON | | 905 | 846-4373 |
| 545 STEELES AVE. E. | | BRAMPTON | L6W4S2 | 905 | 454-7980 |
| 84 LYNDEN ROAD | LYNDEN PARK MALL | BRANTFORD | N3R6B8 | 519 | 752-1779 |
| 1235 FAIRVIEW STREET | MAPLE MEWS PLAZA | BURLINGTON | L7S2H9 | 905 | 333-3111 |
| 2000 APPLEBY LINE | UNIT F1 | BURLINGTON | L7L6M6 | 905 | 336-6200 |
| 200 FRANKLIN BLVD., UNIT FS 3 | | CAMBRIDGE | N1R8N8 | 519 | 621-6330 |
| 1 FIRST STREET | | COLLINGWOOD | L9Y1A1 | 705 | 445-3341 |
| 119 OSLER DRIVE | UNIT 13A | DUNDAS | L9H6X4 | 905 | 628-2042 |
| 236 GUELPH STREET, UNIT B | DELREX MARKET CENTRE | GEORGETOWN | | 905 | 877-2721 |
| 3040 HWY 17 NORTH | | GOULAIS RIVER | P0S1E0 | 705 | 649-2254 |
| 25 ELM STREET | | GRIMSBY | L3M1H4 | 905 | 945-4845 |
| 378 SPEEDVALE AVENUE EAST | UNIT 1A | GUELPH | N1E1N5 | 519 | 824-7900 |
| 615 SCOTTSDALE DRIVE | | GUELPH | N1G3P4 | 519 | 823-5080 |
| 233 DUNDURN STREET SOUTH | | HAMILTON | L8P4K8 | 905 | 529-8761 |
| 34 BARRACK STREET | | KINGSTON | K7K7A9 | 613 | 549-5092 |
| 1280 BATH ROAD | BAYOU PLAZA | KINGSTON | K7M4X3 | 613 | 548-8552 |
| 324 HIGHLAND ROAD WEST UNIT 6 | HIGHLAND ROAD PLAZA | KITCHENER | N2M5G2 | 519 | 745-8781 |
| 109 FANSHAWE PARK ROAD | | LONDON | N5X3W1 | 519 | 660-1366 |
| 3050 WONDERLAND ROAD SOUTH | UNIT B | LONDON | N6L1A6 | 519 | 471-4930 |
| 1073 WELLINGTON ROAD SOUTH | | LONDON | N6E1W4 | 519 | 681-4242 |
| 3075 HIGHWAY 7 EAST | | MARKHAM | L3R5Y5 | 905 | 940-2768 |
| 14 MAIN STREET EAST | | MILTON | L9T1N3 | 905 | 878-2631 |
| 1077 NORTH SERVICE ROAD | APPLEWOOD VILLAGE PLAZA | MISSISSAUGA | L4Y1A6 | 905 | 897-1092 |
| 6975 MEADOWVALE TOWN CENTRE | MEADOWVALE TOWN CENTRE | MISSISSAUGA | L5N2W7 | 905 | 286-0188 |
| 930 SOUTHDOWN ROAD | | MISSISSAUGA | L5J2Y4 | 905 | 822-2281 |
| 5925 RODEO DRIVE | | MISSISSAUGA | L5R4C1 | 905 | 568-4064 |
| 1125 BLOOR STREET EAST | APPLEWOOD HILLS PLAZA | MISSISSAUGA | L4Y2N6 | 905 | 279-2041 |
| 2458 DUNDAS STREET WEST | WOODCHESTER MALL | MISSISSAUGA | L5K1R8 | 905 | 822-1776 |
| 9 – 5035 HURONTARIO ST. | | MISSISSAUGA | L4Z3X7 | 905 | 501-9784 |
| 3020 ELMCREEK RD. | | MISSISSAUGA | L5B4M3 | 905 | 949-6100 |
| 5100 ERIN MILLS PARKWAY | SUITE 5035 | MISSISSAUGA | L5M4Z5 | 905 | 607-7900 |
| 17555 YONGE STREET | | NEWMARKET | L3Y5H6 | 905 | 895-6341 |
| 5389 FERRY STREET | FERRY STREET PLAZA | NIAGARA FALLS | L2G1R9 | 905 | 357-4360 |
| 270 NORTH SERVICE ROAD WEST | OAKVILLE TOWN CENTRE W., BLK.C, #16 | OAKVILLE | L6M2R8 | 905 | 338-1039 |
| 1011 UPPER MIDDLE ROAD EAST | UPPER OAKVILLE SHOPPING CENTRE | OAKVILLE | L6H1M1 | 905 | 849-9934 |
| 251 OAK WALK DR. | | OAKVILLE | L6H6M3 | 905 | 257-6300 |
| 321 CORNWALL DRIVE | UNIT C120 | OAKVILLE | L6J7Z5 | 905 | 845-8100 |
| COLDWATER ROAD & WESTMOUNT DRIVE | P.O. BOX 999, COUNTRY FAIR PLAZA | ORILLIA | L3V6K8 | 705 | 325-9413 |
| 457 HAZELDEAN RD. | UNIT 10 | OTTAWA | K2L1V1 | 613 | 592-5416 |
| 275 RIDEAU STREET | CORNER OF KING EDWARD AND RIDEAU ST | OTTAWA | K1N5Y3 | 613 | 789-5226 |
| 222 RICHMOND ROAD | | OTTAWA | K1Z6W6 | 613 | 729-1735 |
| 1980 BANK STREET | | OTTAWA | K1V0E8 | 613 | 523-7763 |
| 543 WEST HUNT CLUB RD. | | OTTAWA | K2G5W5 | 613 | 224-4333 |
| 3-2016 OGILVIE ROAD | SHOPPERS' CITY EAST | OTTAWA | K1J7N9 | 613 | 745-9906 |
| 120 RIOCAN AVENUE | BARRHAVEN MARKET SQUARE | OTTAWA | K2J5G4 | 613 | 825-1160 |
| 24 – 300 EARL GREY DRIVE | | OTTAWA | K2T1B8 | 613 | 592-1849 |
| 4220 INNES RD | UNIT #1 BUILDING F | OTTAWA | K4A5E6 | 613 | 837-5527 |
| 1156 – 2ND AVENUE EAST | | OWEN SOUND | N4K2H9 | 519 | 376-0761 |
| 879 LANSDOWNE STREET WEST | | PETERBOROUGH | K9J1Z5 | 705 | 743-9955 |
| 1899 BROCK RD UNIT K3 | | PICKERING | L1V4H7 | 905 | 427-9830 |
| 8783 YONGE STREET | | RICHMOND HILL | L4C6Z1 | 905 | 886-3511 |
| 343 GLENDALE AVE. | | ST. CATHARINES | L2T0A1 | 905 | 641-1169 |
| 2273 RYMAL ROAD EAST | | STONEY CREEK | L8J2V8 | 905 | 561-2295 |
| 91 WELLINGTON STREET | | STRATFORD | N5A2L3 | 519 | 271-1343 |
| 1010 DAWSON ROAD | THE LANDMARK INN | THUNDER BAY | P7B5J4 | 807 | 767-8882 |
| 620 ARTHUR STREET WEST | | THUNDER BAY | P7E5R8 | 807 | 475-4833 |
| 2625D WESTON ROAD | | TORONTO | M9N3W2 | 416 | 243-3320 |
| 213 DANFORTH AVENUE | | TORONTO | M4K1N2 | 416 | 469-4724 |
| 1654 QUEEN STREET EAST | | TORONTO | M4L1G3 | 416 | 691-9758 |
| 11 BROCK AVENUE | | TORONTO | M6K2K6 | 416 | 532-7283 |
| 10 SCRIVENER SQUARE | SUMMERHILL SUBWAY | TORONTO | M4W3Y9 | 416 | 922-0403 |
| 337 SPADINA AVENUE | | TORONTO | M5T2E9 | 416 | 597-0145 |
| 232 DUPONT STREET | | TORONTO | M5R1V7 | 416 | 922-7066 |
| 85 HANNA AVENUE, UNIT 103 | | TORONTO | M6K3S3 | 416 | 538-9200 |
| 2151 ST. CLAIR AVE. W. | | TORONTO | M5N1K5 | 416 | 653-8202 |
| 2946 BLOOR STREET WEST | | TORONTO | M8X1B7 | 416 | 239-3065 |
| 147 LAIRD AVENUE | | TORONTO | M4G3B7 | 416 | 425-6282 |
| 4525 KINGSTON ROAD | | TORONTO | M1E2P1 | 416 | 282-2034 |
| 250 THE EAST MALL | CLOVERDALE MALL | TORONTO | M9B3Y8 | 416 | 233-6081 |
| 2 COOPER STREET | QUEEN'S QUAY | TORONTO | M5E1A4 | 416 | 864-6777 |
| 195 THE DONWAY WEST | | TORONTO | M3C0H6 | 416 | 447-0491 |
| 3520 DUNDAS STREET WEST | | TORONTO | M6S2S1 | 416 | 762-8215 |
| 2901 BAYVIEW AVENUE | BAYVIEW VILLAGE MALL | TORONTO | M2K1E6 | 416 | 222-7658 |
| 675 WILSON AVENUE | | TORONTO | M3K1E3 | 416 | 636-5349 |
| 1838-1844 AVENUE ROAD | | TORONTO | M5M3Z5 | 416 | 785-6389 |
| 2300 YONGE STREET | YONGE EGLINTON CENTRE | TORONTO | M4P1E4 | 416 | 487-4858 |
| UNION STATION | LOWER CONCOURSE | TORONTO | M5J1E5 | 416 | 368-9644 |
| 415 KING STREET WEST | | TORONTO | M5V1K1 | 416 | 598-1482 |
| 1941 YONGE STREET | MILLWOOD | TORONTO | M4S1Z8 | 416 | 483-8622 |
| 55 BLOOR STREET WEST | MANULIFE CENTRE | TORONTO | M4W1A5 | 416 | 925-5266 |
| 87 FRONT STREET EAST | ST. LAWRENCE MARKET | TORONTO | M5E1B8 | 416 | 368-0521 |
| 1800 SHEPPARD AVENUE EAST | UNIT 2080, FAIRVIEW MALL | TORONTO | M2J5A7 | 416 | 491-0470 |
| 595 BAY STREET | LOWER CONCOURSE | TORONTO | M5G2C2 | 416 | 979-9978 |
| 115 KING STREET SOUTH | | WATERLOO | N2J1P2 | 519 | 886-4970 |
| 571 KING STREET NORTH | | WATERLOO | N2L5Z7 | 519 | 884-8511 |
| 170 TAUNTON ROAD WEST | | WHITBY | L1R3H8 | 905 | 655-6090 |
| 3165 HOWARD AVENUE | THE ROUNDHOUSE CENTRE | WINDSOR | N8X3Y9 | 519 | 972-1772 |