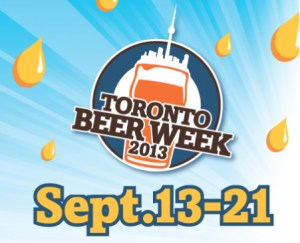 Toronto Beer Week, a week-long celebration of craft beer in the city, kicks off its fourth edition tonight with a preview event at the Premium Beer Experience at the Berkeley Church on Queen Street East.
The Bar Towel is a proud partner of Toronto Beer Week, having been involved with the event since its inception.  Toronto Beer Week has grown to include dozens of breweries, bars and importers from Toronto and beyond, with a dizzying array of beer events across the city.
If you're a serious craft beer fan, or just starting to try out new brews, there will be an event for you.  Please take a look at the extensive Event Calendar to see what's happening around town during the week.
The Bar Towel is also hosting a few events throughout the week – on Sunday we are having a special Brewer's Backyard at the Brick Works entitled Septembière, exclusively with Quebec beer.  On Wednesday we are handing out the hardware from the 11th annual Golden Tap Awards at beerbistro, with an all-Ontario craft beer festival. We have also helped out Tallboys with a new event entitled the CANpionship.  And yours truly is a judge for Beer Academy's Beer Cocktail Competition on Monday night.
There's lots to experience, drink, taste and enjoy during Toronto Beer Week. Don't miss it!