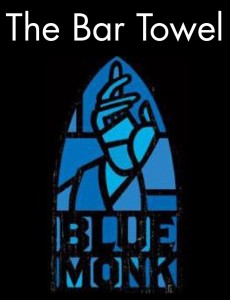 The Bar Towel and The Blue Monk are happy to announce an exclusive day trip to Buffalo!  The Blue Monk is a new Belgian-themed bar and restaurant in Elmwood Village in Buffalo, NY. Owned by Mike Shatzel and Kevin Brinkworth, Mike being the great beer guy behind Cole's (also in Buffalo), the Blue Monk is a new beer destination definitely worth checking out.  The Blue Monk has a mouth-watering tap selection – on opening night they had beers from Cantillon, Dogfish Head, Victory, Stone, Great Lakes (the Ohio one), Nogne, Ommegang and others – with more interesting ones arriving all the time.
The Blue Monk will be welcoming Torontoians with open arms for this event.  For the ticket price ($52.25) you will receive round-trip transport on a coach bus (with washroom!), lunch and a beer of your choice.  And the Blue Monk will be getting some special beer exclusively for our trip!  And everyone's welcome to wander down the street to Cole's if you'd like to have a beer there too.
We will meet out front of Union Station in Toronto at 10am on Saturday, November 20th. We will leave Buffalo around 8pm to aim to be back in Toronto around 10pm.  You can purchase your ticket(s) to for the bus trip online here, or using the big orange button below.  Tickets are limited, so purchase yours now!