TWO PUB CRAWLS TO HIT CITY ON SATURDAY MARCH 19TH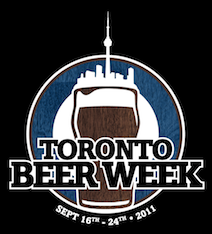 February 23, 2011 (Toronto, ON) – While St. Patrick's Day may be on March 17th, craft beer drinkers will be awaiting the 19th with anticipation, as Toronto Beer Week (TBW) marks the start of its six-month countdown by inviting beer lovers on a drinking tour of some of the city's finest establishments. The 2011 edition of TBW will take place over ten days in September from the 16th to the 24th, but drinkers can get a preview of the fun on March 19th.
Two pub crawls will hit the streets of the city at 2pm.A downtown crawl will be hosted by Cass Enright (founder of the popular Bartowel.com and Freeourbeer.org) and Rob Symes (news editor on Bartowel.com and contributing writer for TAPS The Beer Magazine). The crawl will begin at the Queen & Beaver at 35 Elm Street, before proceeding to The 3 Brewers, Duggan's, beerbistro and C'est What.
At the same time, a second crawl hosted by Troy Burtch (Director of Sales & Marketing with TAPS The Beer Magazine and creator/writer of the Great Canadian Beer Blog) and Nick Pashley (author of 'Notes on a Beermat' and 'Cheers! An Intemperate History of Beer in Canada') will hit Kensington Market and the Annex. After meeting at The Cloak & Dagger (394 College Street) the next stops will be Caplansky's Delicatessen, Burger Bar & Tequila Tavern, The Harbord House and the Victory Cafe.
A number of one-off beers will be available at most participating locations in addition to an already stellar lineup of brews. Food and drink promos will also be available at certain locations.
TBW crawl host and notorious propper-up of bars, Nick Pashley is a fan of pub crawls, and provided this quote in the run-up to the March 19th events: "Why a pub crawl? If you have to ask, this might not be quite for you. Some of us who can't wait for Toronto Beer Week have put together not one but two pub crawls. The concept is simplicity itself: turn up, buy beer, drink same, tip the bar staff, chat amiably with fellow pedestrians, move on to next pub and repeat as required. Bask in the company of Cass and Rob downtown or Troy and Nick in lower midtown, visit a few fine pubs, and drink excellent craft brews. You have better things to do?"
While there is no fee to participate in either crawl – other than your beer… we're not that generous – RSVPing is recommended. For the downtown crawl email numbers to Rob at rob@torontobeerweek.com , and for Kensington Market / the Annex email Troy at troy@torontobeerweek.com.
About Toronto Beer Week
TBW is a series of events dedicated to the celebration and advancement of the craft beer movement. TBW will showcase authentically brewed and flavourful beer, the talented brewers who create them, and the licensees who proudly support them. It's all about good beer – no bland, mega beer permitted!
TBW is a collectively owned organization involving some of Toronto's most seasoned and passionate beer industry members. Our team includes publicans, brewers, media, marketers, and authors, all bringing their valuable experience and vision to create a significant event that reflects the best interests of all participants.
For more information, please contact:
Cass Enright
Executive Committee, Toronto Beer Week
cass@torontobeerweek.com
416.520.5817
Rob Symes
Executive Committee, Toronto Beer Week
rob@torontobeerweek.com
416.660.5620
Troy Burtch
Executive Committee, Toronto Beer Week
troy@torontobeerweek.com
647.400.7051