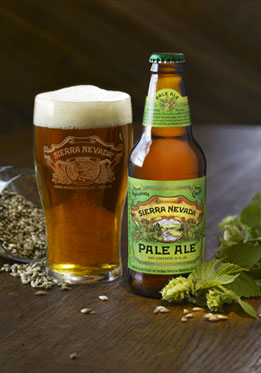 The Sierra Nevada Brewing Company is no longer considered a "micro" brewery (they're currently the 6th largest brewery in America), but they're certainly still a leader in the Craft brew industry. Its been over 30 years since they started brewing their Pale Ale, but it's still considered THE template for a west-coast American pale ale. Their pale ale has given many consumers their first taste of Cascade hops and their Chico/American Ale yeast is ubiquitous amongst craft brewers.
Now 30 years later, they continue to innovate, offering fresh-hopped ales (from the Northern & Southern Hemisphere) and developing a stainless steel 'torpedo' to enhance the dry hopping of their IPA.
They even grow some of their own hops & barley to create one of the few estate ales that are available worldwide. But they're far too large to depend on their own farming. They're the largest purchaser of organic hops in America, and have also established a "Farm with your Brewer" program to encourage small hop farmers to adopt sustainable practices. They were recently awarded "Green Business of the Year" by the Environmental Protection Agency and amazingly divert 99.5% of their solid waste from landfill and utilize renewable power to supply 85% of their electricity.
But above all, they are committed to quality. Consumers recognize the quality of their products and this has provided continued growth over SEVERAL decades. At a significant cost, they require their distributors to utilize refrigerated transportation and storage warehouses. This may restrict their market, but the AFIC Group has stepped up the plate and brought their brews to BC. The Pale Ale is appearing at BC Liquor stores (SKU 120667) for $14.99 a six pack, while the Torpedo IPA (SKU 117804) is already hitting the shelves of the private liquor stores.
Think Global.