Author
Bar Towel News Editor
Share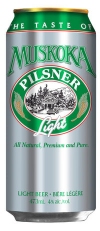 Muskoka Cottage Brewery will be releasing a new beer next week, and have posted the following event announcement on Facebook:
Muskoka Pilsner Light Launch Party
Date: Thursday, April 29, 2010
Time: 7:00pm – 11:00pm
Location: Highway 61
Street: 1620 Bayview Avenue
In celebration of our newest beer Muskoka Pilsner Light, we are throwing a party at one of our favourite bars that serves as the perfect pairing for our new beer.
Join us on Thursday April 29th for some pints of Muskoka, legendary smokehouse grub, live music and good ol' fashioned fun – all hosted by our founder and head brewer Gary McMullen.
For all this city's wonderful restaurants, Toronto isn't particularly known for Smokehouse, but Highway 61 brings this style of cooking in world-class fashion. Low and slow with lots of smoke…the perfect pairing for our new Pilsner Light.