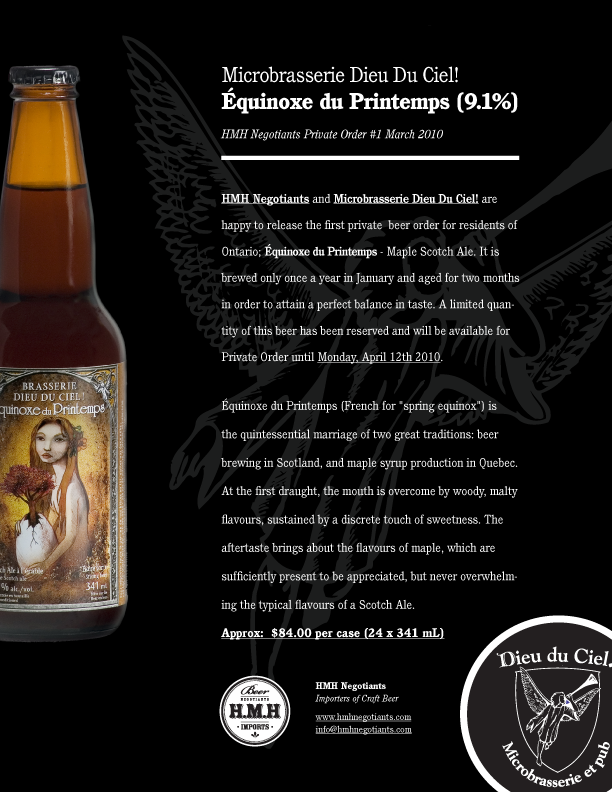 Microbrasserie Dieu Du Ciel!
Équinoxe du Printemps (9.1%) – Maple Scotch Ale
HMH Negotiants Private Order #1 March 2010
HMH Negotiants and Microbrasserie Dieu Du Ciel! are happy to release the first private  beer order for residents of Ontario; Équinoxe du Printemps – Maple Scotch Ale. It is brewed only once a year in January and aged for two months in order to attain a perfect balance in taste. A limited quantity of this beer has been reserved and will be available for Private Order until Monday, April 12th 2010.
Équinoxe du Printemps (French for "spring equinox") is the quintessential marriage of two great traditions: beer brewing in Scotland, and maple syrup production in Quebec. At the first draught, the mouth is overcome by woody, malty flavours, sustained by a discrete touch of sweetness. The aftertaste brings about the flavours of maple, which are sufficiently present to be appreciated, but never overwhelming the typical flavours of a Scotch Ale. 
Approx:  $84.00 per case (24 x 341 mL). If you are interested in placing an order; please e-mail tomas@hmhnegotiants.com the following information; your full name, address, telephone number, e-mail address and the number of cases you would like to order. Cheers!