Please note: This review was originally posted in 2001. Enjoy for historical and nostalgia purposes only.  It does not necessarily represent the present day.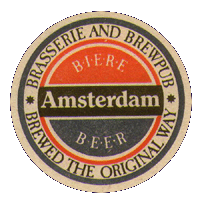 The Amsterdam Brewing Co. has a long and interesting history on the Toronto brewing scene.
Originally Amsterdam was the name of a brewpub on John St. in the heart of Toronto's trendy nightclub district. However, this brewpub was sold and converted into Al Frisco's (who still does do some sporadic house brewing). Amsterdam was also the name of the brewery above the Rotterdam bar, at 600 King St. W, its present location.
The brewery Amsterdam brewed house beers for the Rotterdam, and distributed on draft throught Toronto bars. However, the Amsterdam brewery was getting quite popular, and a decision was made: expand the brewery and sacrifice the bar. The Rotterdam was once one of Toronto's premier beer bars, with over 50 taps, but had been steadily declining in quality in its latter years. So the bar was closed, and the brewery expanded into it, adding a bottling line and more capacity. It is quite confusing, but the end result was that the Rotterdam bar no longer exists, and the Amsterdam is strong as ever, still brewing at 600 King St. West.
In 1997, the Rotterdam closed its doors and the Amsterdam underwent a transformation into fully operational brewery, not simply a draft brewer for the Rotterdam and other Toronto pubs. The brewery re-opened to the public, with an on-site store, and much to my surprise, a new bar! The new Amsterdam pub is located under the brewery, at the original Rotterdam longbar, serving all of their beers on draft, with a small menu of well-priced snacks. As well, there is a large and comfortable patio facing Portland Ave. This bar is a very nice touch and makes a trip to the Amsterdam brewery a very worthwhile experience.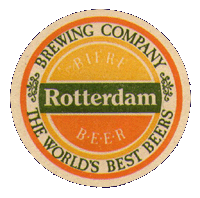 The store offers merchandise, and of course beer, in single bottles available for any combination or number of mixing in 6, 12 and 24 packs. Two of their beers, Natural Blonde and Nut Brown Ale, are also available in LCBO and Beer Stores, but their other brands are on-site only, and they are the most interesting of their beers. They are: Natural Light and Dutch Amberand the locally-famous Framboise. Amsterdam has also been known to produce some seasonals, including: Spring Bock, Oktoberfest, Wheat Beer, and Kerstmis Bier.
In 1999, Amsterdam unveiled a new beer (available in draught and bottled at the brewery),Dogbolter. This interestingly-named brew existed once during the old brewpub days, was brought to life for the new millennium. This beer has since been discontinued.
In 2000, Amsterdam unveiled another new brew, a strong lager named Avalanche.
Another beer has been released in 2001, a throwback to the brewpub days. Scotch Ale, an always anticipated winter seasonal from the Rotterdam, has been revived by the Amsterdam. It is now available in bottles at the brewery. The Scotch Ale has also unfortunately been discontinued.
Amsterdam and Steam Whistle are downtown Toronto's only microbreweries, so visit, have a tour and enjoy some fine local micros!