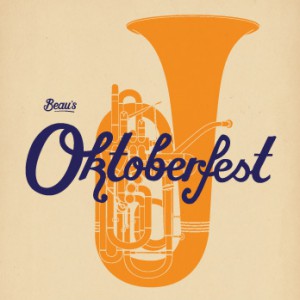 This past weekend I was at Beau's Oktoberfest in Vankleek Hill, with the great privilege of moderating two panels at the "School of Bock", an entertaining education-focused program at this fantastic event.
With the return of Bar Towel Radio after a prolonged absence last month, we felt it was a good time to keep the podcast party going!  So, we recorded both sessions live if you'd like to listen to (or relive) them.
The first session, entitled Dr. Beerlove (Or how we learned to stop working and start drinking more beer), was a lively chat about the history of Beau's, with great stories told by Steve Beauchesne, Tim Beauchesne, Matt O'Hara and Jordan Bamforth.  Listen or download the episode here:
Dr. Beerlove live from Beau's Oktoberfest 2014
The second session, entitled Beau's Brewer's Battle Royale, was a raucous debate where four pilot beers were tasted, which were made by different staffers at Beau's, competing for a production run in the Wild Oats series. Listen or download the episode here:
Beau's Battle Royale live from Beau's Oktoberfest 2014
Note: as the audio was recorded live in a large room, volume levels are variable and not all audience questions are completely audible.
If you'd like, feel free to listen to or subscribe to Bar Towel Radio via iTunes.  We hope you enjoy them!