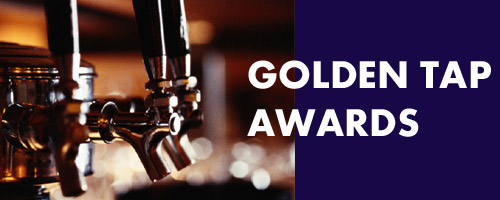 The votes are in and the Golden Tap Awards are determined for 2011! Now all that's left is to hand out the awards to the winners, and we'd love for you to be a part of it.
On Saturday, August 27th we will once again be holding the Golden Tap Awards gala event with our friends at beerbistro.  Starting at 4pm, you can come by (free admission) and sample numerous beers as part of an all-Ontario craft beer festival, to celebrate the best in brewing our province has to offer.  You'll be able to try beers from: Spearhead, Kensington, Muskoka, Beau's, Saint Andre, Junction, Mill St, Nickelbrook, Denison's, Neustadt, King, Great Lakes, Cheshire Valley, F&M, C'est What, Granite, Durham, Black Oak, Indie Alehouse, Amsterdam, Grand River and Flying Monkeys.  All tap lines at beerbistro will be turned over to Ontario craft beers for the GTAs, plus we will have a few casks and a bottle station.  The brewers have been asked to feature their "best" beers so you can be assured of one of the best all-around selections at one time from the Ontario craft beer scene.
At 8pm we will hand out the awards – all of the ones as voted upon by the public and our special Editor's Choice awards as well.  And after the awards, the beer enjoyment will continue right until the end of the night.
All are welcome to the Golden Tap Awards party – no admission or tickets, just buy what you'd like to have at the event.  beerbistro is located at 18 King Street East at Yonge Street in Toronto.  We hope to see you then!