Mike Gurr, who is the Operations Manager at Kensington Brewing Company in Toronto, called Barrie home until he was 18.  He still has friends and family in Barrie and visits frequently.  Back in 2012 Mike set out to get Augusta Ale on tap at as many bars as possible in his former hometown – it was a special project for him.  He likes Barrie and wanted to contribute to shifting the beer scene to something closer to what he was witnessing in Toronto.  It has been three years since Mike set out on his mission but unfortunately the only current place one can find Kensington beer in Barrie is at the LCBO (available in three locations).   As Mike notes, Kensington couldn't afford to compete in a market that was still mostly price driven.
Like Mike, I grew up in Barrie – or more accurately I grew up trying to get out of Barrie – so my perceptions of this town are skewed; framed by my small-town experiences manifesting monikers such as 'hick town' or 'boonies'.  Barrie sits only 90km north of the City and has a reputation of being a bedroom community for Toronto (although I believe this has been overstated).  Sitting on Kempenfelt Bay, Barrie's population growth in my lifetime has been significant (around 38 000 in 1979 to a current population around 140, 000), but some would argue that it hasn't changed all that much.   I remember a city, and this could be my jaded perspective talking, that lacked a strong identity and local culture and I'm not entirely sure if this has grown with the population or not.
Regarding beer in Barrie, when I last lived here I remember seeing Steam Whistle here and there, maybe some Muskoka or Mill St – but for the most part, like many small cities, the beer selection was macro-centric.  I recently moved back to Barrie, prompted by the birth of my son, and I was curious (i.e. worried) about how different my beer selection was going to be – especially given that I was leaving a home that was within walking distance to C'est What?, a short street car ride from Bar Hop, and a few subways stops South of Bar Volo…I was spoiled.
Interestingly though, Barrie has two local breweries and one more on the way – it also has a great little pub downtown that pours exclusively Ontario craft beer.   Given my outdated perceptions of the city, I couldn't wait to explore the beer scene in my new/old hometown to see what had, or had not, changed.
A very – very – brief history of Beer in Barrie
There is a bit of history of beer in this town: Robert Simpson, Barrie's first mayor, was a master brewer, the Formosa Spring Brewery opened here in the 1970s because the building in Formosa was too small to handle expansion, and in 1974 Molson purchased the Formosa brewery (the Formosa brand is currently owned by Brick Brewing).
Starting in September of 1999, the Molson Brewery started the process of moving all Barrie operations to their Toronto location and by 2000 the brewery was closed and around 400 people were laid-off.  You might recall that in early 2004 a Grow-Op was discovered in the empty brewery.  The building was eventually destroyed and the property remains vacant to this day.  Not deterred by recent history, Barrie remained a Molson town and the non-macro beer scene has been slow to develop – and no one knows this better than Flying Monkeys.
Flying Monkeys Craft Brewery
Barrie would remain brewery-free until 2004, when the Robert Simpson Brewery opened up two blocks east of 5-points on Dunlop Street, later renamed to Flying Monkeys Craft Brewery to reflect the direction that founder, Peter Chiodo, wanted to take the brewery.  Peter is straightforward, has a good sense of humour, and doesn't take himself too seriously – "I'm really, really good at making mistakes."   This unserious philosophy permeates their branding and beers – beers that are largely crafted outside of the BJCP style guidelines.  It is an approach that produces polarized opinions, but I think creativity should be celebrated even when the end product is not your thing.  This is not to suggest that the beers aren't carefully constructed though – a current beer was in recipe tweaking stage for 4 years before its recent release and a few of their beers have won medals at the Canadian Brewing Awards.
Peter and his family have a farm in the area and Flying Monkeys has been open for 11 years now.  He knows this town, he is familiar with the downtown area and its reputation, and is honest about the challenges Flying Monkeys has faced here.  Perhaps because of the branding and philosophy, or maybe ditching the Robert Simpson name was perceived as a slight to the local heritage, Flying Monkeys has tended to enjoy more success outside of their hometown (I didn't discover how solid of a beer Smashbomb was until I moved to Toronto).
With surrounding bars slow to adapt it is still more difficult than it should be to find Flying Monkeys on tap and one gets the impression that they are not exactly top-of-mind with beer drinkers in this town.   Despite this, Peter is still positive about Barrie, he has witnessed a slow transition and the number of visitors to the retail store has grown significantly in the last year.  He would love to see the downtown core revitalized and presses any relevant politician on what their legacy for Barrie's downtown will be because he sees the potential in its location.  For those that don't know, Barrie's downtown runs just one street North from a very pretty waterfront – a view that would be great for a patio (unfortunately the best patio currently belongs to Hooters).
To accommodate the growing interest, and perhaps to help drive it, Flying Monkeys is currently constructing a tap room at their brewery, they have a non-brewing facility in the South end of Barrie, and I wouldn't be surprised if a production brewery was in their future as the current brewhouse is packed into every nook and cranny of available space.
At one point in our conversation Peter noted that it is much easier to criticize than to build something, a view he clearly embraces as Flying Monkeys continues to grow, helping pave the way for the next breweries to enter this newly developing market.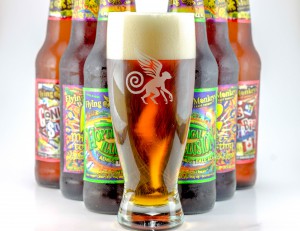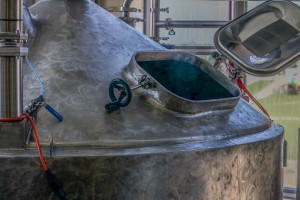 Barnstormer Brewing Company
Despite being told that a brewpub wouldn't work in Barrie because of a lack of a good beer scene, Dustin Norland opened Barnstormer just over a year and a half ago and initially struggled to keep up with the demand for the beer (a common issue for new breweries that start too small).  Barnstormer sits in a nondescript plaza in Barrie's South End, a small space that includes a restaurant, a bottle shop, and plenty of gadgets, wires, and pictures conveying the aeronautical theme.  The plaza is surrounded by subdivisions and Dustin admits that the prospect of being located in such a highly populated area motivated him to choose this location.
Owning a brewpub in a town that lacks a thriving beer scene requires that you, in addition to selling beer, also do some educating.  Dustin notes that at first there were many people who came in looking for domestic light beer and were confused when they couldn't find it – but some of those customers stuck around.   Additionally, as craft beer continues to grow in Toronto, more and more customers are coming in already curious – the task for Barnstormer has shifted from selling new customers on the concept, to now satisfying their desire to know more.
A mechanical engineer by profession, once designing brewing-control systems, Dustin has that interesting mix of technical know-how and creative curiosity that is present in many successful homebrewers – and not surprisingly, homebrewing is how Dustin originally got into the beer scene.  As we walk through the brewery, Dustin's enthusiasm for all things 'engineered' is obvious – he developed the brewhouse software and can hardly contain his excitement when showing me the de-commissioned ambulance he purchased and is transforming into the Barnstormer event vehicle.
Barnstormer has rented out another unit in the plaza for brewery expansion in order to accommodate the demand for their beers.   Three of their brands are now in cans and although the LCBO is on his radar, the goal for now is to simply be able to keep the bottle shop stocked.  Dustin, originally from the U.S. where the beer scene is more mature, firmly believes that Barrie could support another brewery.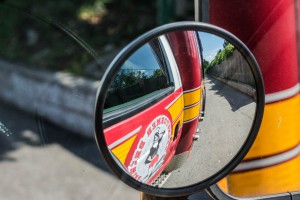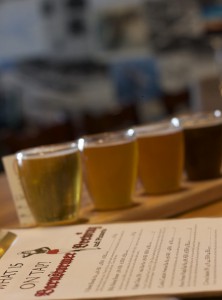 Redline Brewhouse
Walking into Redline one can't help but be impressed with the place – opening in July, the Williams family haven't taken any shortcuts when it comes to the construction of this space.  A 22hL system sits behind a good sized space for a restaurant which will have communal seating with additional upstairs seating above the bar overlooking the brewhouse.   There's a retail store up front, which will have merchandise, cans, and an interesting alternative to growlers, and there is lots of room for expansion in the back.
It's obvious that a lot of money has been put into the space but I get the impression that the Williams' input transcends financial investment.  Doug, who discovered lots of great beer while travelling for work by always asking for something local while visiting a new bar, and Devon (father and son) have helped to build every inch of this brewery and their craftsmanship helps define the branding Redline is moving forward with.
The Williams family are 'gear heads' as Kari (the Mother) explains, so building things is typical in their family.  This mentality might lead one to assume that the branding is all about engines and racing but after chatting with Kari it becomes clear that it is about more than that.  Redline is about the culture and sociability of car clubs, the curiosity and precision that goes into building the cars, and the love and passion of sitting around with friends talking about their hobby.  It's a compelling brand positioning so hopefully they are able to communicate it effectively.
Although clearly comfortable swinging a wrench, the Williams are also smart enough to know that they can't do everything and have hired a well-rounded team to build Redline towards being a successful brewhouse.  Sebastian MacIntosh, who used to be at Flying Monkeys and graduated from the Niagara school of brewing, is the head brewer.  Their head chef, Chris Gardiner, has worked at Oscars and The Farmhouse, two places known for their food, and they have brought in an experienced restaurant manager to help oversee things.   Presently Redline has three core beers – a golden ale, a pale ale, and, more interestingly, an American strong ale (Doug's favourite beer is Stone's Arrogant Bastard).
When asked about whether she felt there were any challenges to being in Barrie, Kari admits that the town lacks a clear identity – but they are from Barrie and they want to build a place that can be provide a sense of community to the people who visit.  She hopes Redline can help to establish a local beer culture that creates enough excitement to get people off the 400 highway at Molson Park, taking a short detour down Mapleview Drive to stop by Redline.
The Local Gastropub
When Scott and Hollis Connor decided to open up The Local Gastropub six years ago, prompted by the desire for a good Reuben sandwich, they were told that an exclusively local beer list would be suicide.  Initially they listened but as world travellers, both had experienced the fun of trying local beers when visiting a new city and they wanted to offer that experience here.  Eventually the macros were pushed out by local micro-beers and the restaurant now has all their taps devoted to Ontario craft breweries.   Scott admits that it's still an uphill battle but it's getting easier – he acknowledges that Barrie is a Molson town and knows that his restaurant is still a bit of an anomaly on Dunlop Street.
The Local was designed to facilitate conversation (the music is kept quiet and the walls are free of televisions), Scott wanted The Local Gastropub to resemble the pubs he remembers from growing up in Scotland – social, vibrant, friendly (mostly), a place where people met for discussion – a place where talking to a stranger at a different table didn't result in a sideways glance.  It's a friendly and social environment that doesn't quite mesh with its location.
The restaurant is located on the corner of Dunlop and Maple Avenue, just east of 5-points and is a few steps away from the Barrie bus station.  The west side of 5-points has been slower to change than the east side, and although both have their issues, the west side is a bit rougher – The restaurant that previously occupied the space kept its blinds down in order to distance itself from its surroundings.  From the start Scott wanted to keep the blinds open, rather than hiding from their corner he hoped the Local could be a catalyst for change.
Like Peter from Flying Monkeys, Scott sees the potential in Barrie's downtown being so close to the waterfront but he has also witnessed an unwillingness to utilize this potential properly.  He'd like to see a more rigorous application policy for downtown business owners to ensure that they also want to be a part of transitioning Barrie's downtown to make it more of a destination.  Although I get the feeling Scott won't always call Barrie home, likely searching out a place closer to the ocean, I do feel that he would like to have a positive impact on the town while he is here.
Moving Forward
When I started researching for this piece I expected to hear much more frustration from the people I talked to, and although all spoke about certain challenges, I never once got the impression that these challenges were necessarily specific to Barrie.  Rather, it is simply the reality of a movement that still only makes up about 3% of the beer sold in Ontario – most of which in larger cities.  I was happy and even surprised to see how far beer had come in this city – there's now a craft beer and BBQ festival downtown – this year the breweries are Flying Monkeys, Redline, Barnstormer, Muskoka, and Northwinds – and more and more bars are offering at least a few taps of something from someone other than a macro.  Personally, I'd like to see Mike make another push to get Kensington on tap somewhere in this city – I think he might have better luck this time.
When talking to Peter from Flying Monkeys he said, speaking positively,  'craft beer will consume you if you let it' – I'm hoping this city allows itself to be consumed by good beer – but to do so I think it will take a concerted effort from all those involved.  I've never felt that there was much brand loyalty when it came to craft beer – exploration is part of the fun – so ultimately fighting for market share is less about your brands, and more about growing the whole category together.  For many reasons, I hope the beer scene continues to develop in the city I now call home (again).
Flying Monkeys: http://www.theflyingmonkeys.ca/
Barnstormer Brewing Company: http://www.barnstormerbrewing.com/
Redline Brewhouse: http://www.redlinebrewhouse.com/
The Local Gastropub: http://thelocalgastropub.com/
Words and pictures by Dennis Talon (theipamyth on Instagram and Twitter)