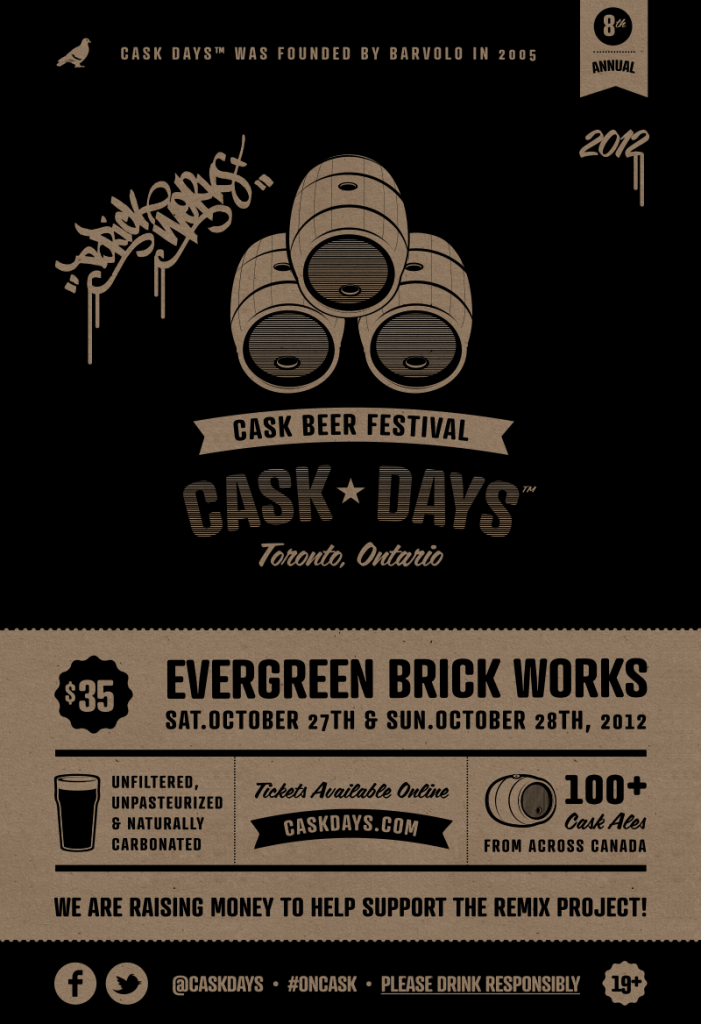 The countdown to Cask Days is on, with only a couple of days left until the big event at the Evergreen Brick Works.
If you're too excited to wait until Saturday, Bar Volo is hosting a couple of pre-events – tonight features a cask takeover by Half Pints of Winnipeg, Manitoba, and tomorrow features a special cask of Howe Sound Pumpkin Eater from B.C.
But it's the festival itself on Saturday and Sunday where over 70 breweries bring 100+ cask beers together for the largest event of its kind in the country.  There's beer, food, music, art – the event promises to be a great one – but there's only limited tickets remaining so you best get one before it's too late.
The Bar Towel is getting in on the action this year as well – through our sister event series the Brewer's Backyard, we are proud to be hosting a special section at Cask Days that features pumpkin and harvest ales!  So as a part of the incredible selection of cask ales you can find at Cask Days, please stop by our Brewer's Backyard area to try out the following:
Howe Sound "Pumpkineater" (Imperial Pumpkin Ale)
Half Pints "Punk 'N' Fest" (Pumpkin Ale)
Hopfenstark "Greg" (Harvest American Foreign Stout)
Railway City "Hoptoberfest" (Harvest Ale)
Benelux "Molsson 2012" (Harvest Saison)
Indie Ale House "Double Barrel Pumpkin Abbey" (Belgian Strong)
Niagara College "Boktoberfest" (Barrel Aged Bock)
Nickelbrook "Pie Eyed Pumpkin Ale" (Spiced Pumpkin Ale)
Brasserurs Illimtes "Magouille" (Scand'Ale With Pumpkin)
Grand River "Highballler" (Pumpkin Ale)
Church Key "Pumpkin Ale" (Pumpkin Ale)
Clocktower "Pumpkin" (Pumpkin Ale)
See you at Cask Days!