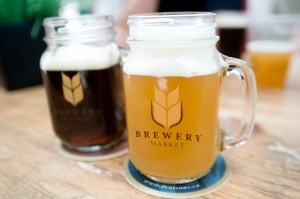 The Brewery Market, a unique beer event series which begun earlier this summer, makes its autumn and winter return tomorrow, Sunday October 23rd.  This week's event is a triple-header of breweries – Black Oak, Cheshire Valley and Kensington Brewing, all featuring a different beer.
To celebrate the Brewery Market's fall and winter series, each event during the season (which also will include December 18, January 15 and March 18) will have a different theme.  This week's event, albeit a tad late, will be Oktoberfest, so the complementary food out of the wood-bake oven will be German-inspired: sausages and pretzels.
All proceeds from the event go to support The Stop Community Food Centre, and we have already raised over $14,000 over the series so far.  As always, the Brewery Market will run from 1-5pm at The Stop's Green Barn at the Wychwood Barns, located at 601 Christie Street.