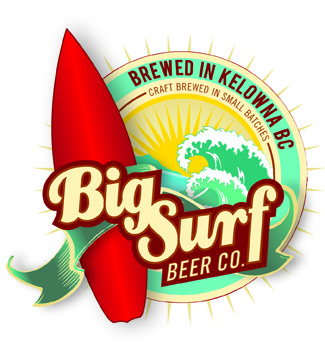 Big Surf Beer Co. has quietly started brewing in Kelowna, BC. The owner is no stranger to the beer industry, having been a national sales manager for Labatt and currently owning two of the most craft-friendly pubs in Kelowna: Doc Willoughby's and the Old Train Station Public House. Big Surf is launching with a "Laid Back Lager", which their Austrian brewmaster has crafted using "European hops and the finest Canadian malt". 6-packs of cans are now available at BC Liquor Stores.
Russell Brewing has released their Märzen just in time for Octoberfest. "At 5.5% alc./vol. this amber-hued Lager has been brewed with Pilsner, Munich and Caramel Vienna Malts and Hallertau Hops".
Lighthouse Brewing Company has released the 4th edition to their Big Flavour Series: Uncharted Belgian IPA. This 7.5% brew was fermented with two different strains of yeast and showcases Riwaka hops from New Zealand. The Vancouver Beer Blog had a nice interview with brewer Dean Mcleod.
Pacific Western Brewery was established in 1957, and they're currently celebrating their last 20 years of ownership with a limited edition Schwarzbock. This was crafted by Peter Boettcher, who has brewed in Germany, Switzerland, and now PWB (since 2010).
In celebration of their 10th anniversary, Phillips released a special IPA in a 3L bottle. Here's some nice coverage from A News. More recently they released their (Twenty-four Mile) Blueberry Pail Ale, and we should see their Crooked Tooth Pumpkin Ale very soon.
Granville Pumpkin Ale is currently available at BC Liquor Stores, as well as Howe Sound's Pumpkineater. Fernie Brewing's Pumpkinhead Brown Ale should also be available soon. Expect to see some more pumpkin brews appearing in October, which is also officially BC Craft Beer Month.