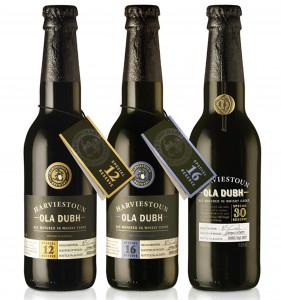 Scotch whisky lovers love rarity. Characteristics such as age marking, unusual special editions and unique casking are all part of whisky lore. Drinkers seek out unique products from interesting places and they are especially savoured. In the beer world, parallels to this are evident due to the similarity of the drinks and mindset of connoisseurs. Although not applicable to all beers, more and more feature age marking, barrel-aging, unique ingredients and general 'one-offness'.  And although certainly not unique to beer and whisky, the rarer and more interesting tends to be much more desirable.
With all this in mind, it's little wonder these two worlds – Scotch whisky and beer – have collided. The Harviestoun brewery of Scotland has married the two, with great success internationally and now in Ontario. But the five kinds of Ola Dubh, a beer matured in Highland Park whisky casks now available at the LCBO, is an interesting story of rarity.
In winter 2009, the LCBO as part of their Winter Warmers release offered Ola Dubh 12, a strong dark ale aged in casks formerly used to mature Highland Park 12 Year Old Scotch whisky. This made beer connoisseurs in Ontario excited, but even more so was the news that Ola Dubh 40, aged in 40 year old casks, was coming too. Now this got beer lovers going.
The Ola Dubh 12, as it was part of the seasonal release, had a few thousand bottles hit the shelves. The 40, on the other hand, had only 30 cases come to the province, and with an error of logistics, 2/3 of that went to a single store in Toronto. The uniqueness of the products and the enthusiasm for both of them set off a frenzy, with beer lovers searching for them and posting their findings, or frustrations, up on The Bar Towel's Forum.
Now this is not the first time that beer lovers have gotten excited about a new beer hitting the province. In 2006, when Dogfish Head 60 Minute IPA arrived, connoisseurs went after it with vigour. And recently in early 2010, Black Oak's new 10 Bitter Years sold out quickly, just from sales at brewery.  The beer lovers in Ontario seek out the good finds, no question.
Back to the Ola Dubh. The 40, even selling at an unheard-of $18.95 per 330mL bottle (possibly the most expensive single bottle of beer ever sold at retail in Ontario), vanished. And this haloed to the 12, although having more availability, disappeared in a flash. I even found myself caught up in the frenzy – after seeing some bottles of 12 at Summerhill I was told by an LCBO employee that it would not last. So I bought some, feeling lucky to have had the privilege. The Ola Dubh 40 sold out so quickly and with such buzz that the LCBO ordered 100 more cases, which eventually arrived in spring 2010.
This obviously opened the eyes of the LCBO to Ola Dubh and they wanted to capitalize. They chose Harviestoun to be the winter Brewery Feature, a program whereby a single brewery has a series of beers released for a limited time only in a select number of stores. The first Brewery Feature in early autumn was Dieu du Ciel!, and the Harviestoun Feature offered all five expressions of Ola Dubh – 12 Year Old, 16, 18, 30 and 40, with prices ranging from $5.95 for the 12 up to $18.95 for the 40. Ola Dubh would be back, and in a big way.
According to the LCBO stock of Ola Dubh 40, there are presently over 1,900 bottles available in Ontario, a far cry from the 30 cases a year ago. And there are plenty of bottles available of the other expressions as well. This is great news for beer fans of all kinds, from budding to experienced, as they can easily try the fantastic Ola Dubh expressions this holiday season.
But the frenzy seen a year ago has certainly subsided. Ola Dubh isn't the rare find it was, but a beer easily found with the help of the LCBO's online stock system. That begs the question, does rarity make for a more desirable beer? Definitely. Does it make for a better beer? Not necessarily, but it does make for a more interesting one. Does rarity make for good business? It does seem that way, as Ola Dubh's two-brand limited release turned into a full brewery feature a year later. The rarity of Ola Dubh in 2009 was newsworthy and exciting for the serious beer crowd. But the availability of Ola Dubh in 2010 is good for all beer drinkers, even though it might be a bit less talk-worthy.
Rare products in both the Scotch whisky and beer worlds have been proven sellers for years, which can sometimes translate into perceived quality. After all, the #1 beer in the world according to RateBeer and BeerAdvocate, is a notoriously difficult to acquire drink. Unique, rare and desirable beers seem to be a more common occurrence at LCBO (just wait for the upcoming Sam Adams Utopias). But breweries might be wise to maintain a strategy of rarity with certain products (it seems the last batch of 10 Bitter Years didn't quite sell as quickly).  Rare beers of premium quality get beer enthusiasts excited and create news.  Beers that are just as premium but not as rare allow all drinkers to enjoy easily.  It's great to see more of both in Ontario.