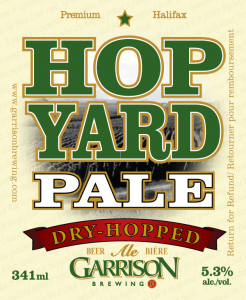 As part of a new LCBO promotion entitled I Love Canada, a great beer from the East Coast is being released for a limited time.
Arriving from Garrison Brewing is HopYard Pale Ale.  This beer, which made its debut last year and won a silver at the Canadian Brewing Awards (North American Style Pale Ale/Bitter), is a west coast style ale that is dry-hopped.  It will be making its retail debut in Ontario and follows Imperial I.P.A. as the 2nd Garrison beer hitting the shelves in the province.  Garrison is represented in Ontario by The Bar Towel.
HopYard Pale Ale will be available in 6-packs of bottles for $13.95.  The I Love Canada promotion begins June 19th and runs through mid-July and also features a number of breweries from the Ontario Craft Brewers.
(Note: As previously reported Central City Red Racer IPA is expected to be released at the LCBO as well, but might not coincide exactly with this promotion.  Specifics will be posted as they are confirmed.)