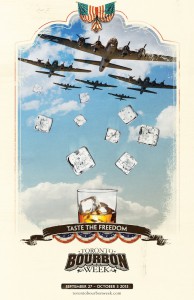 OK, this isn't exclusively about beer, but The Bar Towel is also behind a new initiative in the city, Toronto Bourbon Week.  This is Toronto's first week-long celebration dedicated to bourbon, with seven events taking place over seven days, at seven different locations around the city, some of which having a beer tie-in.  Toronto Bourbon Week will run from September 27th until October 3rd.
Toronto Bourbon Week has officially announced two of their seven events, with tickets available now.  On Friday, September 27th Toronto Bourbon Week will launch with Fingers and Bones at the Indie Alehouse, an event which pairs bourbon ("fingers") with ribs ("bones"), with some of their house beer to boot.  And on Sunday, September 29th, Acadia Restaurant will be hosting the Bourbon Brunch, a family-style brunch paired with two exclusive in-house barrel-aged bourbon cocktails.
The remaining five events will be formally announced in the coming days, along with ticket information.  But in the meantime, get your tickets to these events if they are appealing, and mark your calendars for the rest of Toronto Bourbon Week!