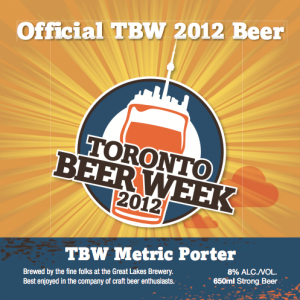 On Friday, September 14th the third edition of Toronto Beer Week touches down with beer celebrations across the city.  Until September 22nd Toronto will be filled with beer events – from tastings, dinners, launches, contests, festivals – everything a beer lover could ask for.
This week's Toronto Beer Week also features an official beer – a Metric Porter brewed in collaboration between Great Lakes and George Milbrandt of C'est What which will be on display at every participating bar.
There are tons of events happening around the city and the best way to plan is by using Toronto Beer Week's Events Calendar.  You can also stay on top of things at The Bar Towel's Events discussion forum.
The Bar Towel is a proud founding partner of Toronto Beer Week.  This year's closing-night party of Toronto Beer Week will be the 10th annual Golden Tap Awards, where the best craft breweries, bars and beers are recognized.  You can find out more about the event and RSVP at our Facebook event.
We look forward to seeing you at Toronto Beer Week this year!