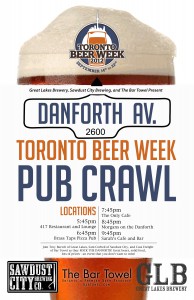 Pub Crawls! We love doing them, and the 3rd Annual Toronto Beer Week (September 14-22) provides us with another opportunity to sit down with our friends to plan a collaborative pub crawl…this time we're going to "Rock The Danforth!"
On Monday September 17, starting at 5:45pm, our good friend Troy Burtch will lead the Danforth crawl along with friends Sam Corbeil (Brewmaster – Sawdust City Brewing) and yours truly Cass Enright (from The Bar Towel and Brewer's Backyard).  Itinerary will be as follows:
5:45pm – 417 Restaurant and Lounge
6:45pm – Brass Taps Pizza Pub
7:45pm – The Only Cafe
8:45pm – Morgans on the Danforth
9:45pm – Sarah's Cafe and Bar
Some more details can be found after the break.  We hope to see you there!
– This is a non-ticketed event.
– People are encouraged to sign-up on Facebook event page
– Prizes from Great Lakes, SawDust Tap and Bar Towel will be handed out at each stop
– There will be beers from Great Lakes and SawDust City on tap or in bottles at each location
– TTC will be used to take pub crawlers from Brass Taps to the Only Cafe – walking to every other location
– Pub Crawl is rain or shine