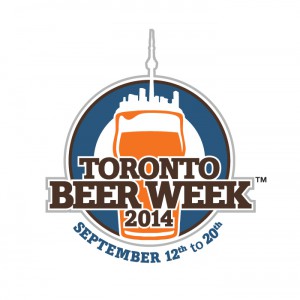 The early bird deadline for bars and breweries to participate in Toronto Beer Week (at a discounted rate) is today, Friday, May 16th.  Toronto Beer Week, which will take place from September 12th to 20th this fall, is one of the city's preeminent craft beer celebrations.  Now in its fifth year, Toronto Beer Week featured 56 bars, restaurants and pubs, 30 breweries and over 150 events across the city in 2013, with more expected in 2014.
Participating as a licensee or brewery has many great benefits and this year's Toronto Beer Week promises to be another outstanding week of craft beer events.  If you are a licensee or brewery and are interested in Toronto Beer Week, please take a look at the details and benefits of participation here.  If you are ready to sign up or have any questions, please contact Troy at Toronto Beer Week.
Looking forward to seeing everyone out at TBW2014!
The Bar Towel is a founding sponsor of Toronto Beer Week.