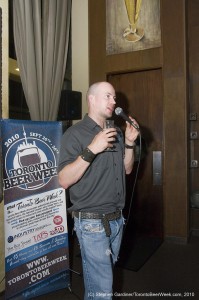 Toronto Beer Week is half-way done, and it has been an incredible success so far.  There have been dozens of events across the city – dinners, tastings, talks, meet and greets – all in the name of celebrating craft beer in Toronto.
Bar Towel forum member and photographer Duct Tape has been capturing some scenes from various events across the city and has been posting them in a Flickr set – check them out here!  (the picture to the right is his, from the Brewdog dinner at beerbistro on Tuesday).
Events continue across Toronto through the weekend, including a full-tap feature of Black Oak at Volo and the Ladies Night Pub Crawl on Thursday, C'est What's Festival of Craft Breweries on Friday and Saturday, Steam Whistle's bus tour to a hop farm on Saturday, the Great Lakes Harvest Fest on Saturday, the Toronto Beer Quest on Sunday and many, many more.  Keep up to date with the latest details in the Bar Towel Discussion Forum thread and the Toronto Beer Week events page.  Don't miss out on this fantastic city-wide beer celebration!