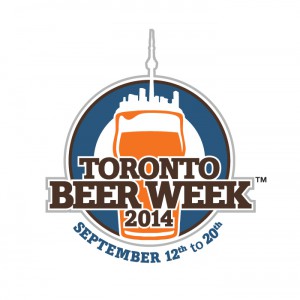 Toronto Beer Week, now in its fifth year, launches tonight (Thursday, September 11th) and features the largest number of participants in its history.  With over 100 bars, restaurants, breweries and importers participating, Toronto Beer Week is one of the biggest and most concentrated celebrations of craft beer in the city.
Over the span of nine days, Toronto Beer Week features beer events of all kinds, including tap takeovers, beer dinners, pub crawls, beer talks, special tastings, festivals and more.  There are dozens of events listed in the official calendar, with more being added constantly. The Bar Towel is involved in a few, including hosting the Golden Tap Awards at beerbistro (Wednesday, September 17th) and co-presenting the Sacred Oak: A Night of Barrel Aged Beer at Indie Alehouse's Barrel Room (Saturday, September 13th) and the Australian Invasion at the Beer Academy (Monday, September 15th).
Playing off of the impending municipal election, the theme for this year's Toronto Beer Week is "Your Taste Counts", and everyone who attends is encouraged to vote for their favourites of Toronto Beer Week using the hashtag #TBW2014 or by filling out a quick form online.  This gives beer drinkers a chance to have their voice heard to recognize the best of Toronto Beer Week, including favourite bar, brewery, event and beer tried during the week.
Toronto Beer Week kicks off at The Beer Experience at the Berkeley Church on Thursday, September 11th and runs through Saturday, September 20th.  Amsterdam BrewHouse has brewed an exclusive TBW Farmhouse Ale, which will be tapped on Friday and available at select events throughout the week.
The Bar Towel is an official partner of Toronto Beer Week.