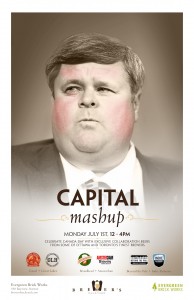 The next of our Brewer's Backyard series of beer tasting events is taking place this holiday Monday, Canada Day, July 1st at the Evergreen Brick Works.
This event is a special one, as for the first time there will be exclusive collaboration beers between three breweries from Toronto and Ottawa, to celebrate the great beer scenes happening across the province.
Great Lakes collaborated with Cassel, and their result is a Cranberry Saison.  Indie Alehouse did a brew with Beyond the Pale, and they did up a Belgian Golden Ale.  And finally Amsterdam and Broadhead got together and brewed up a Wheat Pale Ale with Lemon.  All three beers will debut at the Brewer's Backyard on July 1st, and be served again on July 7th at the Brewery Market in Ottawa.
Along with the collaborations, each brewer will feature a number of their other brands in their respective home city.  The Brewer's Backyard will also feature food from Kanga Meat Pies, Indie Alehouse and Sweet Sammies.
The Capital Mashup runs from 12-4pm in the Koerner Gardens and Holcim Gallery areas of the Evergreen Brick Works.  Admission is free, and you can buy tickets for food and beer at the event.  The event will accept cash, Visa, MasterCard and debit, and runs rain or shine.  There are extremely limited quantities of the collaboration beers, so be sure to get there early if you'd like to try some!