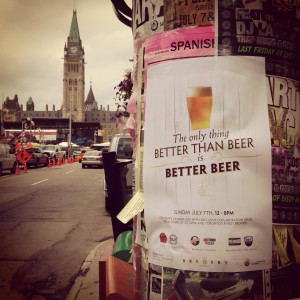 The Brewery Market returns to Ottawa after a successful debut last fall, on Sunday, July 7th at Parkdale Park in Hintonburg.
This marks the first of three Brewery Market events in Ottawa this summer, this one entitled the Capital Mashup.  Tied to the Toronto Brewer's Backyard of the same name, the event will feature exclusive collaborations between three breweries in Ottawa and Toronto.
As already posted, the three collaborations include a Cranberry Saison (Great Lakes and Cassel), a Lemon Wheat Pale Ale (Amsterdam and Broadhead) and Golden Devil Belgian Ale (Indie Alehouse and Beyond the Pale).
The Brewery Market will also feature other beers from Cassel, Broadhead and Beyond the Pale alongside the collaborations.  Beyond the Pale will have Pink Fuzz, Rye Guy IPA, Hop on Your Face, Imperial Porter and The Darkness on tap, along with casks of Pink Fuzz, Rye Guy and Hop on Your Face.  Cassel will have Golden Rails Honey Brown, Hopper Car IPA and White Fog Witbier.  Broadheadwill have a selection of their regular brews, so some of Underdog Pale, Wildcard Ale, Dark Horse Stout, Grindstone Amber, Long Shot White and Backbone Standard.
As you're getting ready for the event, give a read to some exclusive interviews from the collaboration breweries on Ottawa Beer Events: Broadhead, Cassel and Beyond the Pale.
The Brewery Market runs from 12-8pm at Parkdale Park on Sunday, July 7th in Ottawa.  Admission is free and you can purchase tickets at the event for food and beer.  The event is all ages, and proceeds go to support Ottawa Riverkeeper.  We hope to see you then!