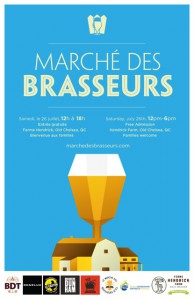 The inaugural edition of the Marché des Brasseurs, the inaugural Quebec edition of the Brewery Market, is happening this Saturday, July 26th from 12-6pm at the Hendrick Farm in Old Chelsea.  The Marche will follow a similar format of the Brewery Market and Brewer's Backyard: a casual, family-friendly event that features local beer and food in a unique setting.
For the Marche des Brasseurs, we're thrilled to be welcoming some of Quebec's finest breweries, including Le Trou du Diable, Brasseurs du Temps, Le Castor, Dunham and Benelux.  Food will be served by local restaurants The Village House, Les Fougères and Patisserie Le Toque.
The event will be taking place at the Hendrick Farm, a beautiful and scenic property in Old Chelsea, only 15 minutes from downtown Ottawa.  We've already had some great media coverage about the event in Le Droit, Ottawa Magazine, Metro Ottawa and The Low Down, so this promises to be a good one.
In partnership with Brew Donkey, we will be running a shuttle bus from the corner of Fairmont & Wellington (near Hintonburg Park) to the Marche.  Round-trip tickets are $10, and kids ride for free.  You can get your bus tickets here.
This is our first of hopefully many Marchés des Brasseurs celebrating the great beers with our friends in Quebec.  We hope to see you there!