Author
Bar Towel News Editor
Share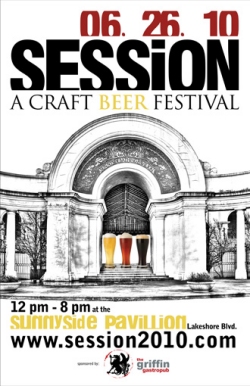 As part of Ontario Craft Beer Week, Jed Corbeil and Curt Dunlop of The Griffin Gastropub in Bracebridge will be presenting Session: A Craft Beer Festival on Saturday, June 26th from 12 noon to 8:00 PM at Sunnyside Pavilion in Toronto.
Session will feature breweries from Ontario and elsewhere in Canada including:
Amsterdam Brewing [Toronto, ON] Black Oak Brewing [Etobicoke, ON] Beau's All Natural Brewing [Vankleek Hill, ON] Brick Brewing [Waterloo, ON] Cameron's Brewing [Oakville, ON] Duggan's Brewery [Toronto, ON] Flying Monkeys Craft Brewery [Barrie, ON] F&M Brewery [Guelph, ON] Garrison Brewing [Halifax, NS] Great Lakes Brewery [Etobicoke, ON] Hockley Valley Brewery [Orangeville, ON] Lake of Bays Brewing Co. [Baysville, ON] McAuslan Brewing [Montreal, QC] Mill Street Brewery [Toronto, ON] Muskoka Cottage Brewery [Bracebridge, ON] Nickelbrook Beers [Burlington, ON] Niagara's Best Brewery [Niagara Falls, ON] Propeller Brewery [Halifax, NS] Thornbury Village Cidery [Thornbury, ON] Tree Brewing [Kelowna, BC] Unibroue [Chambly, QC] Wellington Brewing [Guelph, ON]
The festival will also feature food from local restaurants and artisans, as well as live entertainment. For more details, including ticket information, visit the Session website.