As I sit in the crowded tap room at Sawdust City Brewing Company waiting for Sam Corbeil, brewmaster and co-founder, the space buzzes with a mix of locals sitting at the bar and a large group of tourists behind me; the flashes of their cameras light up the darkly lit room as they capture memories of their trip one flight at a time.  A portion of the 24 hL brewhouse and a few fermentors are visible from the windows in the tap room and from my seat and I can see head brewer Aaron Spinney getting a glass of water.  Compared to the tap room, the brewery looks quiet – much of the activity presumably taking place in the space that's not visible from my seat.
As Sam sits down I ask if we've met before – we conclude that we haven't but rather that I likely recognize him from a past interaction that took place at a beer festival.  As Sam notes, 'he does love beer festivals', a comment that at first might seem trivial.  As Sam re-counts the story of how Sawdust City came to be it becomes clear that beer festivals played an important role – and although he likely only meant that he enjoyed the experience and beer offered at festivals, one could be forgiven if they thought he was being more sentimental than that given their impact on the Sawdust story.
In 2005, Sam was travelling through France and Belgium on a trip that would end up having a significant impact on his life.  While attending a beer festival in Brussels, Sam's view of beer and what it meant to him changed dramatically.  Before this trip, his admiration for beer was generally straightforward: he thought of beer in terms of a vocation only once before – jokingly when fresh out of university, he wasn't a homebrewer, he simply enjoyed consuming beer.   At the time he had a good job buying and planning advertising for movies, although he wasn't completely satisfied – "I was creating advertising for awful movies that should never have been made."   It's a familiar context for many, I'm sure – for Sam, the culmination of that moment in Brussels and the office life he returned to sparked the realization that he wanted to work with beer.
"I went to school for sports administration and business management because that's what I thought I wanted to do but I was 18, I was basically an idiot.  And now I was almost 30 and I think everyone kind of gets to that point when they are approaching 30 and they get their first mid-mid-life crisis and you [have to decide] what do you really want to do."
Anyone who has developed a more thoughtful appreciation for beer has likely had similar moments to the one Sam experienced in Brussels, but like most vacation-related epiphanies, the realities of our lives kick in and we talk ourselves out of it.  That moment in Brussels and the reality of his job was enough to convince Sam, though; there was no internal struggle, just the task of convincing his wife that logistically they could make it work.  I pushed on this because I thought for sure there had to be some hesitation – and not just because of logistics – but Sam was adamant that overall it was an easy decision – "It was easy outside of convincing my wife that I had to leave to go to another country for 6 months…In my mind I knew I had to go do this…."
In January of 2006, Sam was off to Berlin having enrolled in the 6 months Certified Brewmaster course at VLB.  After a short apprenticeship in Germany he returned to Ontario and a day later was interviewing at Magnotta Brewery, maker of True North beers, where he would stay for about 5 months.  Following Magnotta he spent nine months at Robert Simpson's (Now Flying Monkeys) in Barrie, and then was off to Mill Street in Toronto where he worked for four years – four years that saw the brewery grow in volume by 400%, an experience that taught Sam what it takes to keep up with a growing beer scene.  Although appreciating the experience gained at each brewery, the ultimate goal was to brew his own recipes on his own equipment in his own brewery – "I got into this because I wanted to do something of my own…I wanted to start from the ground up…"
Moving forward, another moment at a beer festival would mark the beginning of Sawdust City.  Sam and Rob Engman shared some important commonalities – they both had a connection to the Gravenhurst area, they both wanted to open a brewery, and they both attended the first Sessions beer festival in 2010 (additionally, they were both involved with TAPS magazine but didn't really know each other at this point).  At the festival, Sam and Rob approached each other and, how this happened Sam still isn't sure about, asked each other the same question about wanting to start a brewery.  The conversation wasn't complicated and continued shortly after at Rob's place in Gravenhurst; they had a shared philosophy for the brewery and each brought something to the table that the other needed to make it a reality.
In June of 2010, Sam, Rob, and Karla Dudley (Rob and Karla are husband and wife) targeted an opening date in 2012 for their brewery that was to be located in Gravenhurst.  Anyone who knows Gravenhurst can likely see why owning a small brewery there would be tempting (it's a place I would love to eventually call home).  It's a little town of about 12, 000 people, although the population in the Muskoka region grows significantly in the summer months, the centre of the town is surrounded by two lakes, Lake Muskoka and Gull Lake, and it serves as the 'gateway' to the Muskoka district.  Home to cottages, scenic water fronts, and a main-strip that looks like one might imagine it did 75 years ago.  It's one of those places that makes you want to move a bit slower and appreciate what's around you.  Gravenhurst was where the brewery was going to be – there was no doubt – and so they decided to name the brewery in a way that anchored it to this location.  In the 1870s, the town was home to an extensive logging industry which led the adoption of the name, Sawdust City – a fact Sam came across after extensive research (i.e. Google).
Regarding location, Gravenhurst was also home to a boat-building industry that was situated on Lake Muskoka.  In 2005, the Muskoka Wharf was constructed; it includes a boardwalk, retailers, restaurants, and a venue for summer events.   This is where they envisioned the future home of Sawdust City Brewing Company and so they purchased a plot of land and starting working on the plans to build the brewpub there.   It was a perfect situation – a shared philosophy, a great little town, a beautiful location on the water and a name that tied the brewery to the city and its history…but as anyone who has opened a brewery will tell you, there will always be unexpected challenges.  One major challenge was the realization that the land they purchased on the Wharf was too small – a difficult decision was made and the opening of Sawdust City was delayed for 2 years as they sold the waterfront property and searched for and eventually purchased a different location – "By the time we were ready to build, we were already in the LCBO and we realized that by the time the space was built we would be too big for it."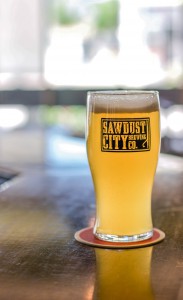 During this time Sam and his team kept busy; the first test batches of Sawdust City beer were brewed at the Niagara Brewing College – including the Great Weiss North, a collaboration brew that was designed with the Niagara College students and staff which contained ingredients from every Canadian province.   After 5 months at Niagara, they started brewing at Black Oak under a model that was a little different than other contract situations.  Black Oak housed Sawdust's fermentors and unlike some other contract situations, the Sawdust team were present at the brewery when their beers were being brewed.  Sam credits Black Oak's hospitality for helping Sawdust get to where they are – "They let us build our company in their backyard."
On Nov 18th 2011, Sawdust tapped the first keg they ever sold at the Griffin in Bracebridge (Golden Beach Pale Ale).   Despite the odd additional challenge, including having to dump a batch of Lone Pine IPA that was already on LCBO shelves because it didn't meet internal expectations – "It wasn't terrible it just wasn't as good as it should have been…it wasn't as tough as a decision to make as you think…it was harder to find a place to dispose of it" – Sawdust City continued to move towards their ultimate goal and as Sam notes, once you start seeing progress, the challenges you faced are easily forgotten.
"Some days were harder than others…you're two and half years in and you've haven't seen anything, it can be hard to hold on to something for that long.  But the next day something great happens and you forget you were upset the day before.  The thing is, once you're open and that day has passed you just get further away from it and you forget what it was like."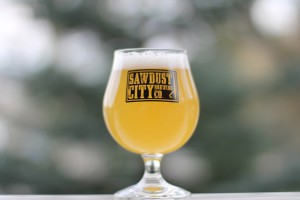 On June 27th 2014, Sawdust City opened the doors to a 20,000 square foot building that was formally a Canadian Tire.  They decided against the brewpub and instead went with a brewery, tasting room, and retail store.  This upcoming Labour Day weekend will mark the one-year anniversary of the grand opening and over that first year most things have gone as they expected, while there has also been some pleasant surprises.  The brewery looks and functions just as the plans indicated it would – efficiently and logically, additionally, it is a show-piece brewery which invites people to tour and see what is going on – something that was very important to Sam.  One surprise is that the tap room has ended up feeling and operating more like a local bar than what was originally expected, which prompted the creation of the Mug Club – an exclusive club for regular customers which includes $5 beers in their mug, and some other special access to events.
"We never expected the bar to be such a 'bar' – it was a tasting bar – but thank our lucky stars we got the full-bar license because it has been great…it gives people a place to come to and we never expected that."
Sawdust has five core brands that, through their branding, all evoke the cottage country sentiment.  They also wanted to create a portfolio that would provide an option for as many type of beer drinkers as possible: Gateway Kolsh, as the name suggests, is an easy drinking introductory beer.  Ol'Woody Alt, a nod to the Muskoka Boat and Heritage Centre located on the Wharf, is the 'Shoulder beer'.  Then there's Golden Beach Pale Ale – a hazy pale ale that can often be found in my fridge – which is named after the street Sam grew up on.  The Skinny Dippn' Stout is a smooth oatmeal stout that reveals roasty and chocolate notes as it warms up.  Finally, Lone Pine IPA, last year's Golden Tap Brewer's Choice award winner, is their American IPA.
In addition to the core brands, Sawdust also has about 40-50 barrels (mostly wine) and a new beer series called the Winewood Series – the next beer released in the series  will be '1606', a barrel-aged raspberry version of Skinny Dippn' Stout which will be available at the one year anniversary party on Labour Day weekend.   Recently they started a 'Big Bottle' series – the first of which being the release of 400 bottles of a barrel-aged cranberry saison called 'Until Tomorrow Ingrid'.   There's also a good amount of seasonals, one-offs, and collaborations to keep the 12 taps in the tasting room constantly changing.  Twin Pines IIPA will be returning on October 26th (fittingly) and another Back to the Future themed beer is coming soon; also, keep an eye open for upcoming news of a Sawdust City x Cigar City collaboration.  As mentioned, there will be a One Year Anniversary party on Labour Day weekend, and a few weeks later on October 2nd and 3rd Sawdust will be hosting an Oktoberfest event at the Gravenhurst Curling Club.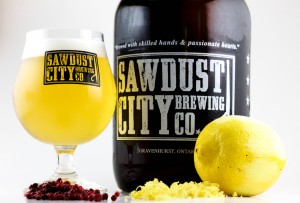 It has been almost 10 years since Sam returned from Berlin and took his first job brewing, in that time he has learned a lot about brewing beer and the business of beer – "it's not just malt and hops, there's a lot of paper in there, too.  I think paper is the 5th ingredient in beer."  Since 2006 the beer scene in Ontario has grown immensely – and although his excitement for beer has been redefined over that time, Sam is very proud of what he is seeing in the Ontario beer scene.   When you think of the timing of Sam's choice to leave advertising in the context of the growing beer scene in Ontario, it seems almost serendipitous – It's not often you see people make difficult decisions about their career and have it work out so perfectly – it almost sounds like the script to a cheesy movie, and for whoever writes that movie, please don't approach Sam about the advertising for it.
Words and pictures by dennis talon: you can follow dennis on twitter and instagram
Visit the Sawdust City Brewing Company website here
CORRECTION: The Big Bottle series was renamed to the Winewood Series after the release of Until Tomorrow Ingrid – Until Tomorrow Ingrid was the first of the series to be released, 1606 will be the second.