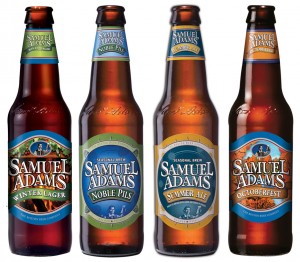 When Moosehead Breweries announced their strategic alliance with the Boston Beer Company (a.k.a. Samuel Adams) earlier this year, beer fans in Ontario had reason to be cautiously optimistic.  Having a strong partner on the ground in the Canadian market would give Samuel Adams a good opportunity to have their brands reach drinkers locally, and their complementary brand portfolios pointed to being able to co-exist rather than compete with one another.  This is in stark contrast with Sam Adams' previous strategic alliance (scroll down), one with Sleeman Breweries 10 years ago.  This, as I predicted on Bar Towel all those years ago, did not lead to an increase in Sam Adams availability for drinkers in Ontario.
Well, it looks like in a short period of time this is not going to be the case with Sam Adams' relationship with Moosehead. We're getting some new Sam Adams brands and it looks like Moosehead is putting a lot behind supporting their new alliance, and this is fantastic news for beer connoisseurs in Ontario.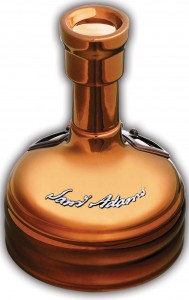 This past summer Samuel Adams Summer Ale hit the shelves as part of the LCBO's summer seasonal release.  And just recently Octoberfest came out as part of the autumn release, including draught availability as well.  A pattern, perhaps? Yes indeed.
Moosehead and Sam Adams will be following a seasonal release strategy for the Sam Adams brands, with one coming out every few months.  As we've already seen, Summer Ale and Octoberfest are the summer and fall seasonals respectively. Coming up next will be Sam Adams Winter Lager (6 packs and draught)  in November, followed by Noble Pils (6 packs) in February. It is excellent to see Moosehead and Sam Adams commit to bringing new brands to the marketplace in Canada with this plan – and it will through next year as well.
But that's not all.  Sam Adams is also known for their interesting specialty and super-premium beers, and we will also see them in Ontario from time to time.  Just in time for the holiday season, the Summerhill LCBO store will be receiving a special shipment of Utopias, a 20%+ wood-aged brew, in one of the most unique bottles you will ever see.  And retailing at over $100, it's not cheap but it certainly is memorable and one of the most talked-about beers around.  Look for some special events at beerbistro associated with Utopias and other Sam Adams releases.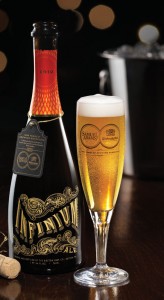 And if that isn't enough, also in December (but possibly in January) the Sam Adams / Weihenstephan collaboration Infinium will be released across Ontario.  Described by Jim Koch as a cross between "a Champagne, a dessert wine and the Samuel Adams Noble Pils", this is the first of a possible few more collaborations between the breweries and looks like a delicious one.
I've always had a soft spot for Sam Adams beers – they were one of the first U.S. craft breweries I sought out when I first started getting into premium beer.  They're the largest craft brewery in the United States but they still retain a strong connection to craft through multiple examples of innovative beers they've released over the years and continue to brew.
Big kudos to Moosehead for taking advantage of their alliance with Sam Adams and bringing some brands that will appeal across the board to beer lovers – from newcomers to craft beer right up to the most serious.  And with their recent announcement of Moosehead Cask Ale in New Brunswick, plus Moosehead's subsidiary Hop City, this indicates a company that is taking their craft beer seriously alongside their core lineup of brands.  Great to see.