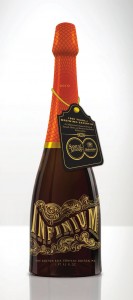 Samuel Adams Infinium, another product in an aggressive Ontario strategy which features quarterly seasonal releases and the recent, incredibly successful Utopias lottery, is hitting the LCBO in the coming week.
Infinium, a unique beer made in collaboration with the Weihenstephan brewery in Germany, will only see 200 cases available in Ontario.  Packaged in a foil-top 750mL bottle, the beer will sell for $14.95 at LCBOs.  It is being distributed to a very select number of stores, under 20 stores in total.  The stores that will be receiving Infinium are listed after the break.
Join in on the conversation about Sam Adams' recent foray into the Ontario market in our Discussion Forum.
Samuel Adams Infinium will be released in the following LCBO stores:
10 Toronto-Central Yonge & Summerhill
495 Guelph Scottsdale & Stone Road West
325 Guelph Speedvale & Stevenson
217 Toronto-Central Queens Quay & Yonge
549 Kitchener Highland & Westmount (Highland Rd Plaza)
15 Toronto-Central Dupont & Spadina
38 Ottawa Rideau & King Edward
164 Toronto-Central Laird & Eglinton (Leaside)
417 Waterloo King North & Northfield
525 Toronto-Central Yonge & Davisville
243 Ottawa Bank & Walkley
486 Oakville  Cornwall & Trafalgar
40 Kingston Barrack & King
393 London Richmond & Fanshawe Pk (Masonville)
5 Toronto-Central Queen & Coxwell (The Beach)
385 Mississauga Mavis & Britannia (Heartland Town Ctr)