Phillips Brewing Co. Invades Ontario!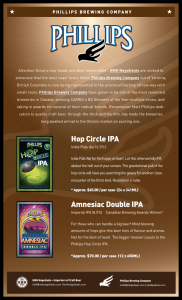 Two Beers Now Available for Private Order!
Attention Ontario hop heads and beer lovers alike. HMH Negotiants are stoked to announce that the west coast heavy hitter, Phillips Brewing Company out of Victoria, British Columbia is now being represented in the province! Starting off low-key with small roots, Phillips Brewery Company have grown to be one of the most rewarded breweries in Canada, winning CAMRA's BC Brewery of the Year multiple times, and taking in awards for several of their radical brands. Brewmaster Matt Phillips dedication to quality craft beer, through the thick and the thin, has mad the breweries long awaited arrival to the Ontario market an exciting one. Phillips Brewing Company and HMH Negotiants have teamed up are planning on releasing two deliciously hoppy beers from the west coast to Ontario! Whether you want the out of your world citrusy burst from Phillips Hop Circle IPA, or the bigger meaner Amnesiac double IPA, we've got you covered. We will start things off by releasing these two brands that only the finest pallets of hop lovers can handle;
Phillips Hop Circle IPA,
India Pale Ale (6.5%) 24 x 341ML
India Pale Ale for the hoppy at heart. Let this otherworldly IPA abduct the hell out of your
senses. The gravitational pull of the hop circle will have you searching the galaxy for
another close encounter of the thirst kind. Resistance is futile.
Amnesiac Double IPA
Imperial/Double IPA (8.5%) 12 x 650ML
For those who can handle a big beer! Mind blowing amounts of hops give this beer tons
of flavour and aroma. Not for the faint of heart. The bigger meaner cousin to the Phillips
Hop Circle IPA.
If you are interested in placing an order, please e-mail your request to sales@hmhnegotiants.com. (Include Name, Phone Number, Address, E-mail and the number of cases you would like) This Private Order will be closing on Monday, July 12th, 2010. For more information on Private Ordering please visit www.hmhnegotiants.com/aboutprivateorder.html