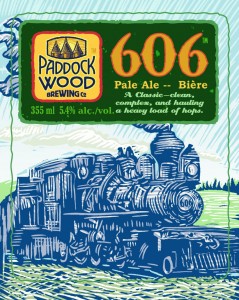 Paddock Wood, Saskatchewan's first craft brewery, is entering the Ontario market with two of their brands: 606 India Pale Ale and Czech Mate Pilsner. But the tale of how and where the brands are available is an interesting one, and not the usual way a new brand arrives in Ontario.
Earlier in the year Paddock Wood pursued a general listing in the LCBO (meaning the beer would be available all the time, not just as a seasonal release) and also a listing at The Beer Store. What ended up happening is that Paddock Wood was approved for LCBO "Combination" stores – which are stores in rural communities where there is no Beer Store – not regular LCBO stores. So, regular LCBO stores will not be getting Paddock Wood, but the combination ones can do so (according to the LCBO's inventory, the 606 IPA is available in Paisley, ON).
Believing that regular LCBOs in Toronto would be able to get Paddock Wood (before the "Combination" clarification), the brewery did not list in any Beer Stores in the city. Which is why, at this point in time, you will only be finding Paddock Wood at select Beer Stores or LCBO combination stores outside of Toronto. This is probably the first time a craft brand has hit the province and it is not in Toronto!
But this is going to be changing quickly. Paddock Wood will be listing in about 20-25 more Beer Stores, including Toronto. So beer fans in Toronto, you'll be able to get it soon enough if you don't want to take a drive to pick some up.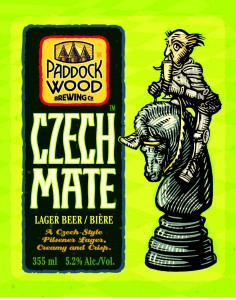 Both 606 IPA and Czech Mate will be sold for $13.20 per six pack. The 606, named after the 606 jazz club in London, originally began as Paddock Wood's Rye IPA, but lowered its alcohol percentage at the request of bars in Saskatchewan to 5.4%. Over the last couple of years the hops in 606 have changed but presently it's hopped with Cascade and Amarillo.
Czech Mate was driven by Paddock Wood's brewmaster's (Steve Cavan) challenges finding fresh Czech-style pilsners in Saskatchewan when he was a homebrewer – so he did something about it! This brought about the opening of Paddock Wood so Steve could get the ingredients and make the pilsner he wanted to and so Czech Mate was born.
Currently both brands will be available (if not already) at the following Beer Stores: Kitchener (Bleams Road), Oshawa (Taunton Road E), Peterborough (Landsdowne), Georgetown, Orangeville, Barrie (Bayfield St), Brampton (Bramalea City Centre), Ajax, Lindsay, Guelph (Willow West Mall) and Aurora.
For many years it has been unfortunate to not have access to many Canadian craft beers in Ontario. The founder of Paddock Wood, Steve Cavan, is originally from Ontario and it is great to see some new Canadian craft brands in the province. Welcome Steve & Paddock Wood!