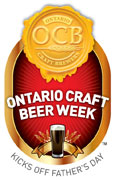 Ontario Craft Beer Week, the signature week-long celebration of beer organized by the Ontario Craft Brewers, kicks off tomorrow (June 17th) and runs until June 23rd.
Now in its third year, OCB Week will be hosting over 100 events in over 40 communities across the province.  And there's a ton to choose from, including pub crawls, special tastings, music events, beer dinners, and festivals.
One of the notable events to kick off the week is the second event of the Brewer's Backyard (organized in part by The Bar Towel).  The event, entitled the Father's Day Triathlon, is taking place at the Koerner Gardens of the Evergreen Brick Works as the official after-party of the Ride the Ravines bike ride.  The event will feature beers from Amsterdam Brewery (including the debut of the CBA silver medal winning Maverick and Gose, plus the GTA Belgian Farmhouse Ale, a collaboration beer brewed for OCB Week) and BBQ from Death Row Meals.  The event runs from 11-4pm and you can find out more at the Brewer's Backyard website.
There are dozens more events to choose from, and you can keep yourself very busy with beer this coming week.  Take your dad out for a brew tomorrow, and enjoy the rest of the week's events.  See after the break for a listing of many of the events taking place, and you can find the full listing at the OCB Week website.
MULTI-BREWERY EVENTS & PUB CRAWLS – Toronto, Guelph, Ottawa
Join brewery staff and beer lovers on a pub pilgrimage in the fine cities of Toronto, Guelph & Ottawa and at multi-brewery tastings across the province:
June 17: Father's Day Ale Trail Bus Tour – Wellington, F&M & the Woolwich Arrow.
June 17: Visitors from Toronto can take one of the Ontario Craft Brewery Tours with Jim Bruce; leaves from Fairmont Royal York Hotel to Guelph or GTA breweries – http://www.craftbrewerytours.com
June 19: Toronto Eastside Pub Crawl with Beau's, Great Lakes and Muskoka (Sarah's, Morgan's, The Only, Brass Taps)
June 19: Toronto Westside Pub Crawl with Great Lakes Beau's, Great Lakes and Muskoka (The Local, The Dizzy, Cardinal Rule, The Sister, The Rhino)
June 20: The Albion Hotel in Guelph, Ontario, will host another CRAFT BEER SHOW for Ontario Craft Beer Week featuring beer from Wellington Brewery, F&M Brewery, Flying Monkeys, Steamwhistle & more
June 21: Ottawa Pub Crawl with Beau's, Muskoka & Flying Monkeys – starts at Irene's
June 21: Amsterdam Open Mic at DeSotos Eatery on St. Clair West in Toronto
June 21: Cask Night at the Kiwi in Cambridge with Beau's, F&M and Grand River
June 22 & 23: Happy Traveller Craft Beer Fest in Guelph with Wellington, F&M, Neustadt, Barley Days
June 23: Inaugaural Renaissance Craft Beer Festival at the Renaissance Hotel (Rogers Centre) in Toronto, featuring Muskoka, Steam Whistle and Cameron's Breweries, it will be a day of Craft Beer, Sun, Fun, Food and Music by the Julian Taylor Band.
June 23: Cabaret & Cask with Nickel Brook at DeSotos Eatery on St. Clair West in Toronto
All week: Flights and Bites at Fanny Chadwicks in Toronto (Mill Street, Great Lakes, Beau's, Flying Monkeys, Muskoka, Wellington, Steam Whistle)
MUSIC MAKES THE BEER GO ROUND – Indie beer & Indie music is jam-packed with cool events:
June 17: Quinn's Open Mic night in Ottawa
June 18: Steam Whistle – Showcase Mondays at Zaphod Beeblbrox in Ottawa
June 19: Nickel Brook – Craft Beer & Latin Jazz at Latinada in Toronto
June 21: Steam Whistle presents Open Mic at Brennan's Beer & Bistro with Nathan Ouellette and an Art Show with Warren Laine-Naida
June 21: Open Mic with Barley Days Brewery at the Barley Room Pub at the Waring House in Picton
June 21: Duke of York & Muskoka Patio Party with the Griffon Pub Band in Toronto
June 22: Steam Whistle – Saugeen Summer Nights Festival at Harriston-Minto Fairgrounds
EPIC BATTLE OF THE BREWERY BANDS
June 20: Battle of the Brew Bands at the Only – Part 1 – Johnny 3-Row & the IPAints (Great Lakes); The Tennessee Voodoo Coupe (Mill Street Brewery); Propane Propane (Steam Whistle); The Julian Taylor Band (Camerons)
June 21: Battle of the Brew Bands at the Only Part 2 – The Griffon Pub Band (Sawdust City); Station Twang (Duggan's); Clang (Wellington and The Only); Audio (Beau's All Natural)
UNIQUE, ONE-OFFS & FOODIE EVENTS
June 17: Mill Street Brewery's Father's Day Brewmaster's Dinner at Fairmont Royal York's Epic Restaurant in Toronto
June 17: Mill Street kick's off Ontario Craft Beer Week with a special cask at the Ottawa brewpub
June 17: The Brewers Backyard/Father's Day Triathalon with Amsterdam at the Toronto Brickworks
June 18: Great Lakes Brewery's annual four course beer dinner at the Harbord House with unique, one-off beers
June 18: Barley Days Brewery launches its 1812 beer – Royal George Brown Ale in Picton
All Week: Cast your net into Grand River Brewing for some fabulous tastings in its hospitality room; open from noon to 9 starting Wednesday to Saturday; serving special casks, beer by the glass.
June 20: Have a pint with Hogsback Brewery at the Parliament Pub in Ottawa
June 21: Five course beer dinner with Beau's at Castlegarth in White Lake
June 19: Welly Beer & Cheese tasting at the Cornerstone in Guelph
June 19: King Brewery four course beer dinner at Mugshots Tavern in Toronto
June 21: Cask Night at the Kiwi in Cambridge with Beau's, F&M and Grand River
June 23: Old Credit BBQ & Tasting – Special tasting and free BBQ in Port Credit
BEER 101:
June 17: Papa Brewmaster & Flight School at Mill Street Brewpub in Toronto
June 18: Join Railway City Brewing Company & friends at the Queen's University Grad Club in Kingston for Beer Trivia Night!
June 19: Kichesippi craft beer & artisan cheese tasting in Ottawa
June 20: Cameron's "Not your usual beer school" at the Red Canoe in Burlington
LARGE-SCALE BEER TASTING FESTIVALS
June 14, 15, 16 – Toronto Wine & Spirits Festival, Sugar Beach (Ticketed Event) http://www.wineandspiritfestival.ca/
June 15, 16 – Barrie Beer Festival, Barrie Curling Club (Ticketed Event) http://www.barriebeerfest.com/festinfo.php
June 15 – 17 – Beach, BBQ & Brews Festival, Woodbine Park, Toronto (Free Ribfest)
http://www.beachbbqandbrews.com/
June 23 – Session 99, A Craft Beer Festival, 99 Sudbury Street, Toronto – (Ticketed Event)