Following last year's LCBO Brewery Features of Dieu du Ciel! and Harviestoun, the first feature of 2011 is about to hit the shelves.  Nørrebro Bryghus, the acclaimed brewery from Copenhagen, Denmark, will see five of their beers released in 25 LCBO stores starting the first week of February.
The lineup of Nørrebro coming to stores is very exciting: Bombay Pale Ale (600 mL, $7.50), Julebryg (600 mL, $7.50), Vartripel 2010 (600 mL, $9.35), La Granja Stout (600 mL, $10.15) and Little Korkny Ale (600 mL, $21.95).  The selection represents a great diversity of styles, from pale ale to Belgian-style tripel and barley wine.  Of note is the La Granja Stout, of which this batch is brewed with Ontario maple syrup from Frank Higgins in Combermere and being exclusively sold in the province.  All of the beers are making their in-store debut in Ontario with this release.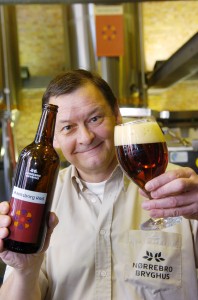 Danish beers have been growing in popularity over the last few years – in 2009 beerbistro hosted a memorable Danish beer dinner featuring Nørrebro and Mikkeller, with Anders Kissmeyer of Nørrebro (pictured on the right) in attendance.  These breweries have been at the forefront of a Danish craft beer movement featuring bold and interesting products, and now Ontario beer drinkers can try some for themselves.
The Brewery Feature program is a quarterly initiative of the LCBO to highlight a specific brewery in a limited number of stores.  The stores that the Nørrebro will be available at are listed after the jump.  You can discuss this feature and other beery topics in our Discussion Forum.
The following LCBO stores will have the feature:
5 Toronto-Central Queen & Coxwell (The Beach)
10 Toronto-Central Yonge & Summerhill
15 Toronto-Central Dupont & Spadina
31 Collingwood First & Pine
38 Ottawa Rideau & King Edward
40 Kingston Barrack & King
115 Waterloo King S. & William (Waterloo Town Sq)
164 Toronto-Central Laird & Eglinton (Leaside)
187 Barrie Bayfield & Hanmer
212 Ottawa Richmond & Kirkwood
217 Toronto-Central Queens Quay & Yonge
243 Ottawa Bank & Walkley
334 Mississauga Winston Churchill & Derry (Meadowvale)
393 London Richmond & Fanshawe Pk (Masonville)
417 Waterloo King North & Northfield
445 Oakville Dundas & Trafalgar (Oak Park)
457 Toronto-Central Yonge & Eglinton (Yonge Eglinton Ctr)
495 Guelph Scottsdale & Stone Road West
499 Ottawa-Nepean Strandherd & Greenbank (Barrhaven)
511 Toronto-Central King & Spadina
525 Toronto-Central Yonge & Davisville
568 Toronto-Central Yonge & Dundas (Atrium On Bay)
623 Richmond Hill Yonge & Hwy 7
624 Ottawa-Orleans Innes & Tenth Line
630 Aurora Bayview & St John