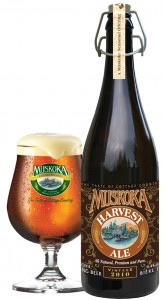 Over the past couple of years we have seen craft breweries in Ontario really step up their game to appeal to the serious beer connoisseur.  One of the best examples of this is Great Lakes – a brewery known for almost 20 years for quaffable lagers made a noticeable push to more craft-appealing brews with tremendous success.  What began with their Devil's Pale Ale led to increased specialties (Pumpkin Ale, Miami Weisse, Orange Peel Ale), events (Project X, Caskapalooza) and eventually an Editor's Circle Golden Tap Award recognizing their efforts.
Now we're seeing the same direction being taken by the Muskoka Cottage Brewery.  Muskoka has been around since 1996, well known in the province for their easy-drinking Muskoka Cream Ale.  It's a fine brew and perfect for "dock drinking" which most certainly is one of their intentions (further proven by their 5L mini-keg, called "The Docker").
But Muskoka's recent evolution from Cream Ale into a broadened beer selection has been impressive.  Over the past few years they have added to their core portfolio with the very fine Hefe Weissbier, Pilsner Light, Premium Lager and Dark Ale – a solid lineup of well-crafted beers.  But now they've gotten beer-serious with the introduction of a super-premium lineup of seasonals, beginning this fall with Muskoka Harvest Ale.  The Harvest Ale, which debuted draught-only last year, has hit the province this year in over 100 LCBOs in a handsome 750mL swingtop bottle and 60 bars on draught.
Mike Laba, marketing manager for Muskoka was kind enough to provide The Bar Towel with a bottle of their Harvest Ale along with some clever support materials.  But it's the beer that matters and Harvest Ale delivers.  The beer, honouring the end of the growing season is a strong (6.4%), and rich copper-coloured, malty and dry-hopped beer that is made with predominately all-Ontario ingredients.  It can be purchased at the LCBO as part of its Autumn Ales release and retails for $7.95 per bottle.

Luckily for beer lovers, Harvest Ale isn't going to be a one-shot deal in the seasonal game for Muskoka.  The brewery is following up the Harvest Ale with what looks like another winner as their winter seasonal: Muskoka Double Chocolate Cranberry Stout.  This 8% dark beer, commemorating Muskoka's place as a cranberry growing capital, is arriving mid-November and is further evidence of Muskoka taking their brewing to the next level.  It's certain to be a beer found at numerous holiday parties this winter.
Muskoka, like Great Lakes, is proving that Ontario craft breweries can satisfy different types of beer drinking consumers simultaneously.  From their Cream Ale to Harvest Ale and beyond, Muskoka is offering a diverse beer portfolio that can appeal to just about any taste.  The direction they are going in is impressive and worthy of commendation.  Well done Muskoka, keep it up!