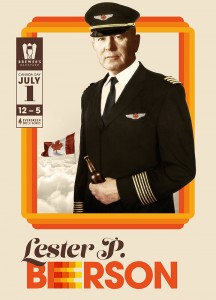 The Brewer's Backyard returns on Canada Day, Friday, July 1st with Lester P. Beerson Day, a celebration of Canada, great beer and delicious food at Toronto's most open beer festival.
At the Evergreen Brick Works the event will feature breweries Great Lakes Brewery, Henderson Brewing, Pitschfork Brewing, Durham, Railway City Brewing and Brimstone Brewing, alongside food from Kanga Meat Pies, Food Dudes, Urban Carnivore, Fidel Gastro's and The Pop Stand.
Lester P. Beerson Day runs from 12pm-5pm on Friday, July 1st at the Koerner Gardens and CRH Gallery areas of the Evergreen Brick Works.  The Brewer's Backyard is Toronto's most open beer festival: admission is free, it is all-ages, family-friendly and all are welcomed.  Beer and food is available for individual purchase at the event. Please note that our last beer sales is at 4:30pm and last beer poured is at 4:45pm.
Please note that for the summer the Evergreen shuttle bus pickup and drop off has relocated to Chester Station.  The TTC Bayview South bus from Davisville Station runs seven days a week.