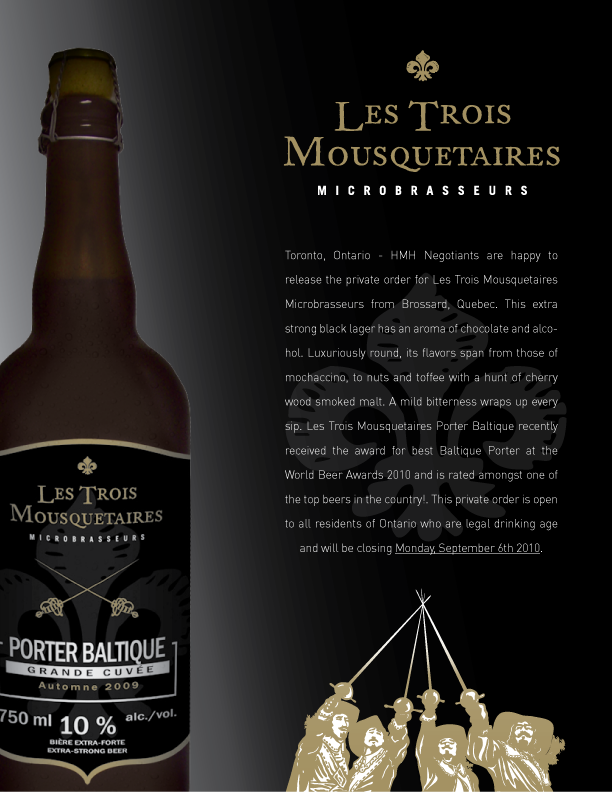 HMH Negotiants are happy to release the private order for Grande Cuvée Porter Baltique 2010 from Les Trois Mousquetaires Microbrasseurs of Brossard, Quebec.
This extra strong black lager has an aroma of chocolate and alcohol. Luxuriously round, its flavors span from those of mochaccino, to nuts and toffee with a hunt of cherry wood smoked malt. A mild bitterness wraps up every sip. Les Trois Mousquetaires Porter Baltique recently received the award for best Baltic Porter at the World Beer Awards 2010 and is rated amongst one of the top beers in the country!
This private order is open to all residents of Ontario and will be closing Monday, September 6th 2010.
Grande Cuvée Porter Baltique  2010
Baltic Porter (10.0%) 12x 750mL – Extra Strong Beer – $95.00 per case.
Ratebeer Rating – ratebeer.com/beer…
BeerAdvocate Rating – beeradvocate.com/…
If you are interested in placing an order, please e-mail sales@hmhnegotiants.com the following information; your name, address, phone number, e-mail address and the number of cases you would like to order. Cheers!