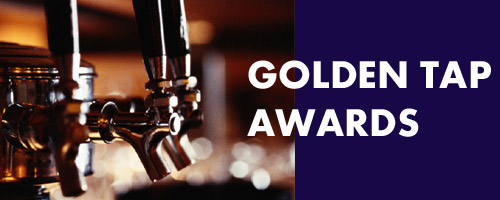 You have until this Sunday to get your votes in for the 2011 Golden Tap Awards!  The Golden Tap Awards recognizes the best beers, breweries and bars across Ontario as determined by public vote.  You can cast your votes online here.
Once all the votes are in, next up are the winner's announcements!  Our Golden Tap Awards weekend begins on Friday, August 26th with an exclusive Ontario craft beer dinner at beerbistro.  The dinner will feature a multi-course tasting menu with beers from Muskoka, Black Oak, King, Granite, Durham, Mill Street and Amsterdam.  Tickets are $45 (plus tax and gratuity) and are available by calling beerbistro at 416-861-9872.
On Saturday is the main event, where we announce all the winners at a special all-Ontario craft beer festival, also at beerbistro.  We will have all taps at beerbistro featuring different Ontario craft beers, plus some casks and bottles.  We will also be serving delicious beerbistro cuisine (whole pig pulled pork!) to complement the beers.  The event is open to the public and there is no admission cost.  Doors open at 4pm and the awards show is at 8pm.  We look forward to seeing you there!