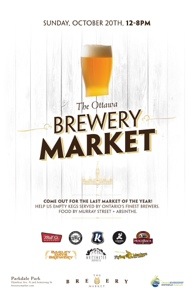 After an awesome final Brewer's Backyard of the year this past Monday, we wrap up our Brewery Market series in Ottawa for the year on Sunday, October 20th.
This year the Brewery Market was a huge success, tripling our events from last year. Across all three events we welcomed all breweries from the Ottawa area, along with some special guest out-of-town brewers, and some of the city's finest restaurants.
Our final event of the year will also be the biggest one of the year, with eight breweries attending: local brewers Clocktower, Kichesippi, Mill Street, HogsBack and Ashton; newcomer up the Ottawa River Whitewater, and out-of-towners Barley Days and Flying Monkeys. There's going to be some delicious treats served as always so you won't want to miss these beers.
On the food front, we're thrilled to welcome back the duo of Murray Street and Absinthe Cafe, who will once again be serving a collaboration burger – something that was a delicious highlight from whomever was at our last Brewery Market.
Once again, we'll be at Parkdale Park in Hintonburg – and we'll have more space in the park to accommodate our larger brewery lineup, so there will still be lots of space for everyone. Admission is free, we're all-ages, and run from 12-8pm on Sunday, October 20th, rain or shine. And we made a fresh batch of branded mason jars so there's lots for everyone this time around!
So come out and celebrate the great brewing and food scene in the Ottawa area, and the awesome Brewery Market events we've been fortunate to be able to host this year. We hope to see you on Sunday!