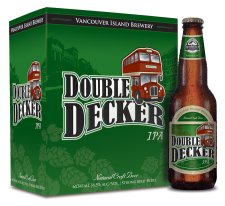 Vancouver Island Brewery has been producing natural, unpasteurized beer since 1984. Now this is the west coast…
SO IT'S ABOUT TIME THEY CRAFTED AN IPA!!!
Their 6.5% Double Decker IPA will have the malt character of a British-style IPA, complemented by Cascade hops from the Pacific Northwest. The best of Britain and America… isn't that what Canada is all about?
This will be released in early February and join the staggering line-up of IPAs that are regularly available at the government BC Liquor Stores. Here's my brief descriptions:
Lighthouse Beacon IPA 5.3% – very British and drinkable, seems like a big pale ale
Old Yale Sergeant's IPA 5.5% – a Gold-Standard for a flavourful, British-style IPA
R&B Hoppelganger 5.5% – surprising amount of body for it's strength
Tree Hop Head 5.6% – has provided a west-coast hop-fix for more than a decade
Fat Cat's Fat Head IPA 6% – modest bitterness, with a little more malt balance
Cannery IPA 6% – really well-crafted, well-rounded American-style IPA
Granville Island Brewing's Brockton IPA 6% – a very easy drinker
Howe Sound Devils Elbow IPA 6% – a unique mix of British and American flavours
Mt. Begbie Brewing Co. Nasty Habit IPA 6% – a flavourful, British-style IPA
Nelson Paddywhack IPA 6.5% – an organic, British-style IPA that's balanced and really hides the alcohol
Spinnakers IPA 6.5% – another very British-inspired brew
Phillips Hop Circle 6.5% – a slightly bolder American-style IPA
Central City Red Racer 6.5% – extraordinary west-coast hop flavour and aroma
And that doesn't include the limited releases, fresh-hopped ales, Cascadian Dark Ales, Double IPAs or any of the brewpub offerings!
Like hops?