I knew Steve Innocente (the owner/brewer) in the late 90's when we were both doing graduate school. I was on his ball hockey team, and although I don't remember a lot of wins, I do remember going for a lot of beers. Since that time, Steve has done a post-doc studying Saccharomyces Cerevisiae (brewing yeast!) in Scotland, and then returned to open his own brewery. He recently won a gold medal at the Canadian Brewing Awards for his Charcoal Porter. That might lead you to think that he's a malt man, or given his background you might expect some crazy yeast experiments, but his brews are generally hop-forward, bitter & dry.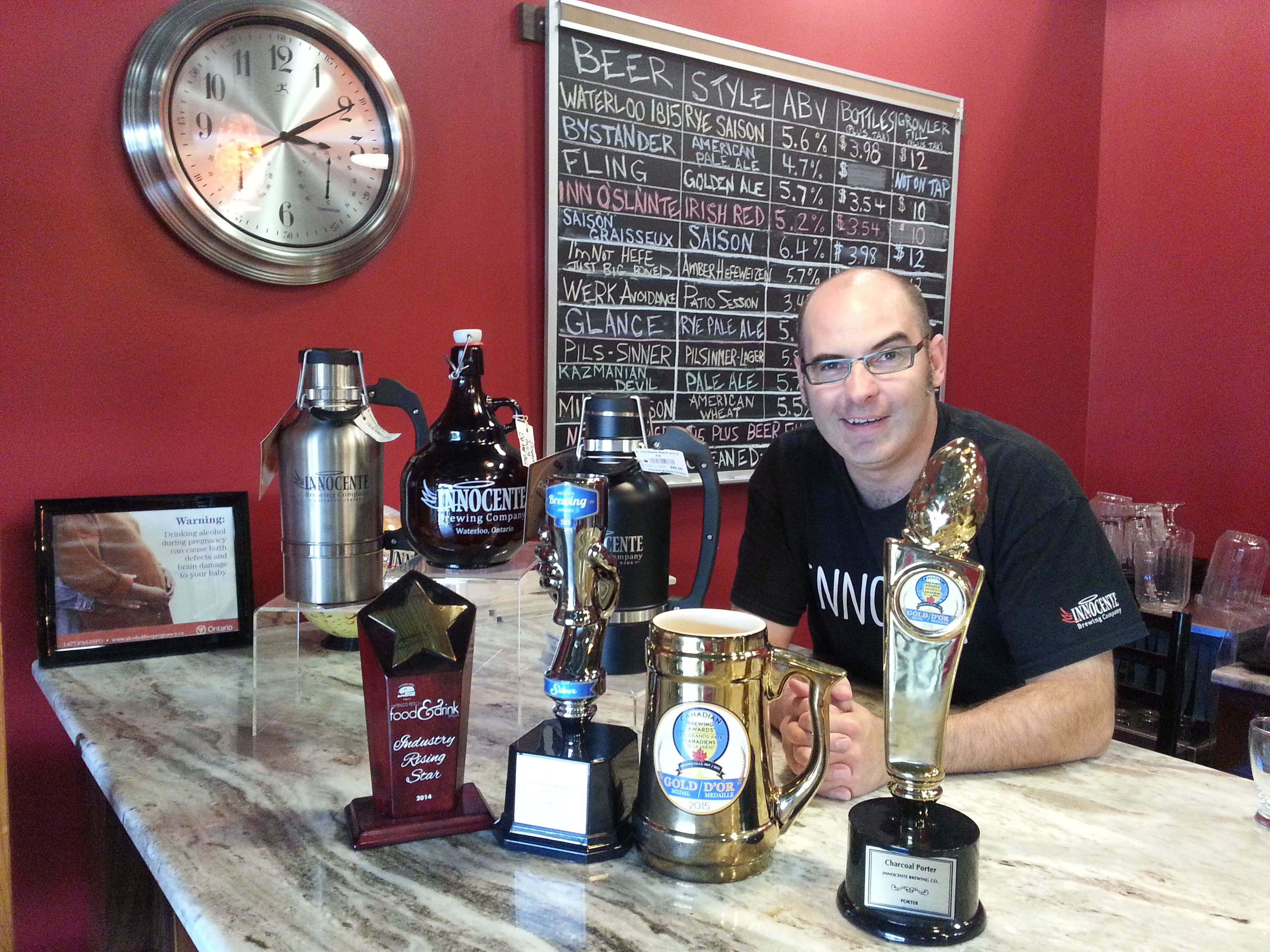 The brewery is located on the outskirts of Waterloo, near the RIM Technology Park and Conestoga Mall. They have a ubiquitous 10 barrel brewing system, along with a number of 10 barrel conical fermenters. This small-batch brewing allows the production of a variety of brews, and is probably more similar to a large brew pub than a larger 'micro' brewery.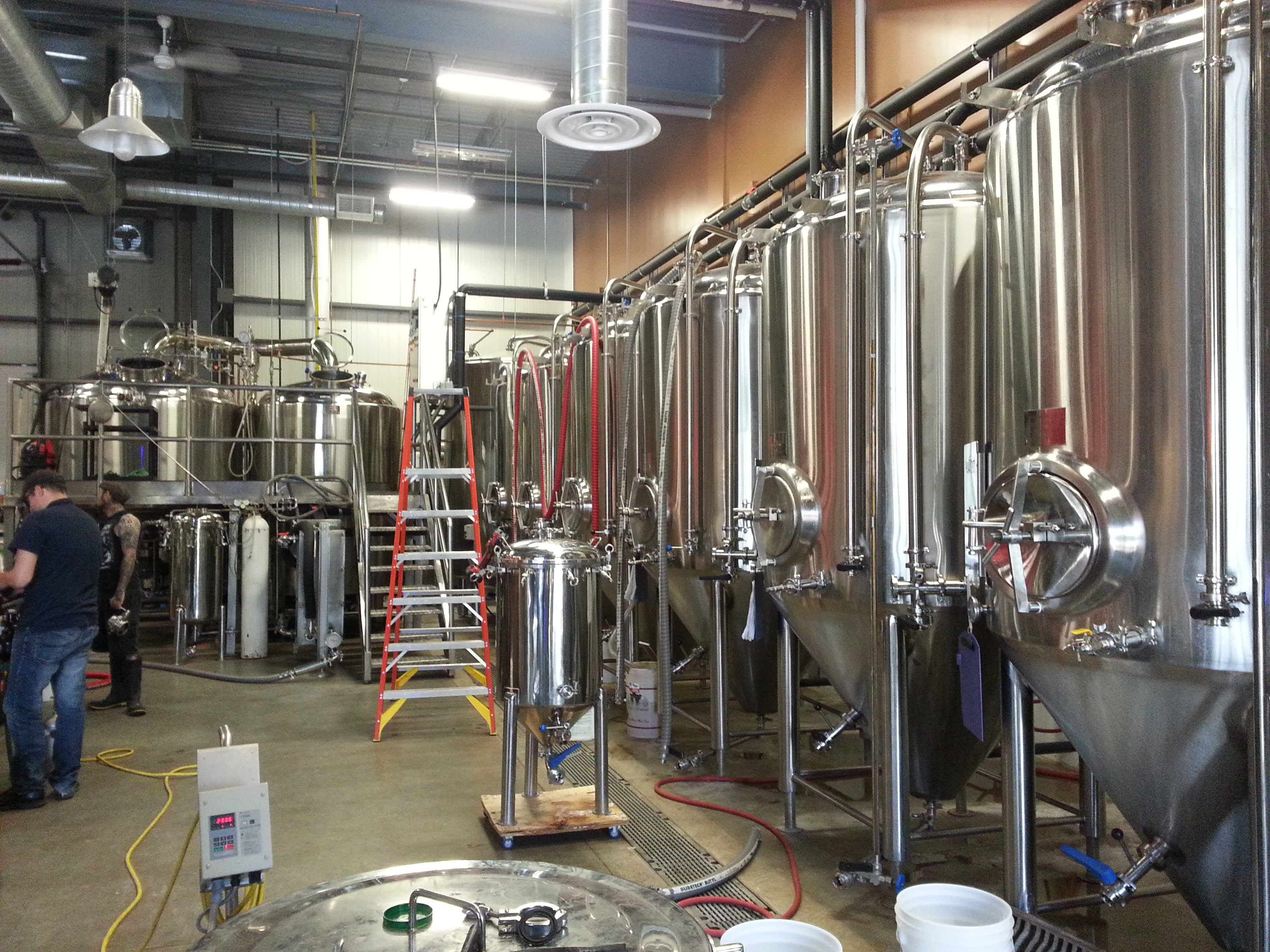 They do have a single 20 barrel conical, which they're currently using for their Pils-Sinner. And yes, this is a real Pilsner. They start with distilled water, which they adjust to match a water profile you'd find in Northern Germany. Then they use an actual lager yeast (not some speedy hybrid) and also provide the necessary time for it to properly condition. When I had it in June, they were using the old-school U.S. Cluster hops along with Wiamea from New Zealand. I see they've now swapped out the Cluster for Mt. Hood, but I suspect this is still an exceptional brew (and probably outside anyone's expectation for a North American Lager).
The other brew that really stood out for me was the Werk Avoidance. Don't let the "Patio Session Ale" moniker fool you, this is FAR better than most India Session Ales. At only 3.4% abv, it combines Galaxy, Centennial and Palisade to pack some serious hop flavour. If Dogfish Head did a 30 minute IPA, this is the sort of thing I'd expect!
Continuing the hop theme, there's the Innocente Fling Golden ale (Challenger & Mt Hood hops), Kazmanian Devil Pale Ale (I'd never tried the Kazbek hop before), Mike Weisson American Wheat (Centennial & Cascade), Innocente Glance Rye Pale Ale (Cluster & Chinook), Innocente Bystander Pale Ale (Galaxy) and Innocente Conscience IPA (Chinook, Galaxy & Ella). There's also the Inn O'Slainte Irish Red Ale that's a little drier than most Red Ales, with some Challenger coming through in the flavour.
Breaking from the hops, they have the I'm Not Hefe, Just Big Boned Hefeweizen with juicy bubblegum and underlying banana. Then there's the Saison Graisseux which has a similar feel to Dupont (often a template for the style), but with a different yeast character and a Saaz hopping that's readily apparent. While the Collaboration brew with Jordan St. John is also a saison, the Waterloo 1815 is entirely different. It's lighter in alcohol, but has a little more depth to the malt flavour.
Unfortunately none of the Innocente brews are currently available at the LCBO, but they do deliver to some of the finer beer-centric establishments within Ontario.