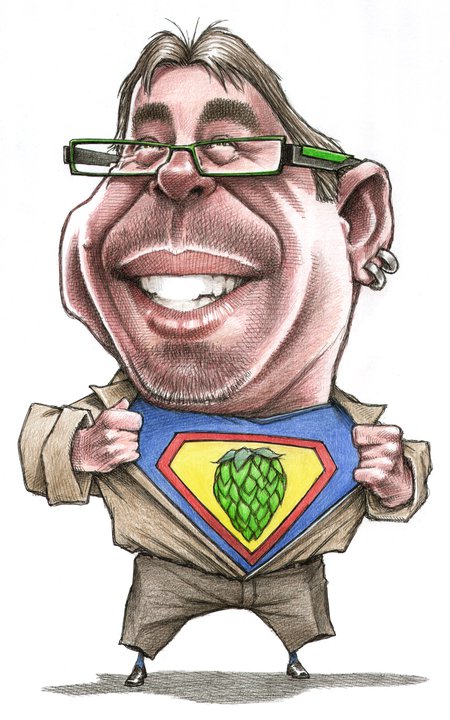 Halifax is a great town, with a really great pub scene. Cass reported on a few of the establishments back in 2006. Two noteworthy additions are the Hart & Thistle and the Rockbottom Brewpub, both under the hand of Greg Nash. Nash trained at the American Brewers Guild and then spent some time in California before returning back home to the Maritimes, where he has become known for his hoppy creations.
The Hart & Thistle is located at the Historic Properties. It's right on the waterfront and has one of the best patios in town. They offer a few craft brews and usually have a couple of their own on-tap. While I was there they had the Hop Rock Candy Mountain, which you can read about at The House of Nash. I had a few drinks, and just as I was leaving I crossed paths with Nash. He said he was brewing at the Rockbottom the next day, and that I was welcome to join him.

So after spending the morning as a tourist, I headed to the Rockbottom for lunch. It's located in the cellar of Your Father's Moustache, which is a Halifax landmark itself. Nash has carved out a small space and setup an impressive little brewery. A new summer wheat beer was just coming to boil when I arrived. We chatted for a bit, then I lined up their sampler tray while I waited for lunch. Nash has an informative blog for the Rockbottom as well, so you can read about all his different brews (and they're not all hop bombs): (1) The Deadwood Wheat uses a clean American yeast and gets some peppery spicing from German Magnum hops. (2) The Big Water Brown has some depth to the malt flavour, but it finishes relatively dry with a light herbal bitterness from the Nugget. (3) The Jacktar Stout is a big American brew that's remarkably drinkable for its strength. (4) The new seasonal brew was the "Mangled", which is a session IPA (4.8% with a gentle 30 IBU) that's re-fermented on 175 lbs of mango. (5) The Fathom IPA is a Nash special, exuding Columbus, Citra and Simcoe hop flavours. (6) The other seasonal brew was "Desecration", an Imperial Red Ale with 'old-school' American Hopping.
I enjoyed the Mangled so I ordered a pint with lunch, but unfortunately the flavour was really muted after the last two samples. After lunch I chatted with Nash while he finished up his brew day. They had just taken the Balticus Smoked Porter off-tap, so he kindly gave me a sample of that one as well… I thought the smoke was reminiscent of Ardbeg and I absolutely loved it. I should've been taking notes because I'd definitely say it's among the best brews I've ever had.
After Nash finished his work we chatted some more and I had a couple pints of the Fathom IPA. He's an artist, but he's intimately familiar with the underlying science as well… tweaking esoteric things such as water chemistry and even mash thickness to get just the flavour and attenuation he desires. A true Brew Master.
There's plenty of great pubs in Halifax, but if you're ever in town, you really need to sample some of Nash's work.
Sociable!