Author
Bar Towel News Editor
Share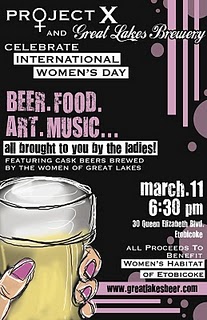 For the March edition of their monthly Project X cask beer night, Great Lakes Brewery will be presenting Project XX in honour of International Women's Day.
Two teams of ladies put their skills to the test making cask beers for this event:
Team 1: Jamie and Melle Oh will dazzle us with their Hefe Weiss!
Team 2: Anetta and Kristy throw down an American Style IPA!
A bar featuring other Great Lakes Beers will also be available.
Melle Oh will be showcasing her paintings, and there will be live music by a female artist.
Food will be by Kristy and Chelsea, the chefs from The Troubadour Bar – yummy home cooked goodness (and recipes made with beer grains and beer!). Oysters will be provided by Oyster Boy, and shucked by the ladies of Great Lakes!
Thursday, March 11th – 6:30 PM
Great Lakes Brewery, 30 Queen Elizabeth Blvd., Etobicoke
$10.00 at the door – All proceeds go to the Women's Habitat of Etobicoke