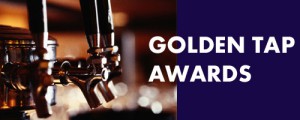 Voting has closed, and now it's time to reveal the winners!  The 10th anniversary Golden Tap Awards will be unveiled on Saturday, September 22nd at the closing-night party of Toronto Beer Week at beerbistro.
The event, which is open to the public and is free admission, will feature an all-Ontario craft beer festival with some of the best beers that the province has to offer.  We'll be offering sample sizes during the festival portion, which runs from 4pm until 8pm.  At 8pm we will hand out the awards, and from that point onwards all beer will be available in full glasses.  We'll also have delicious beerbistro cuisine available including pulled pork and poutine (don't have to wait until late-night on Saturday!)
We will be handing out awards across a series of categories including best brewery (regular + cask), best brewpub, best beer (regular, cask + seasonal) and best bar (draught, bottled + cask), along with a special set of Editor's Circle awards for special achievements in beer.
We will have breweries from across the province represented, with beers available from Cheshire Valley, 3 Brewers, King, Bellwoods, Amsterdam, Spearhead, Great Lakes, Double Trouble, House Ales, Indie Alehouse, Junction, Kensington and more.
Doors open to the Golden Tap Awards at 4pm on Saturday, September 22nd at beerbistro, located at 18 King Street East.  Awards show at 8pm.  Admission is free, and we hope to see you there!