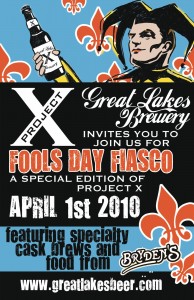 GTA beer lovers will know that on the 2nd Thursday of every month, Great Lakes Brewery creates a special cask or two and invites people to the brewery to help them drink it dry. On April's scheduled date half of the brewery will be whooping it up at the Craft Brewer's Conference so they've decided to move the next Project X to April Fool's Day (I kid you not), and furthermore, they'll be offering four cask ales! Here's some more info straight from the Great Lakes blog:
"Join us on Thursday, April 1 (special date) from 6:30 on as we tap 4, count em 4, cask ales. From the mad minds of Great Lakes staff, we bring you the following beers:
Miami Weisse – 4.5%, 50 BU
Wimpy Impy Stout – 6.5%, 80 BU
My Bitterer Wife Double IPA – 8%, 90BU
Triple Trouble Barleywine – 9%, 70BU (and aged for 6 months!)
And what would April Fool's Day be without fun and games? We'll have some fun stuff to do, but you'll have to show up to find out just what we have in store…
Tash and the gang at Bryden's will be bringing the eats, and if the weather holds, we might have the BBQ up and running.
As usual, give us a shout ahead of time, or show up at the door. And don't plan on driving – take the train, TTC, phone a friend, a cab, whatever, just don't drive!"